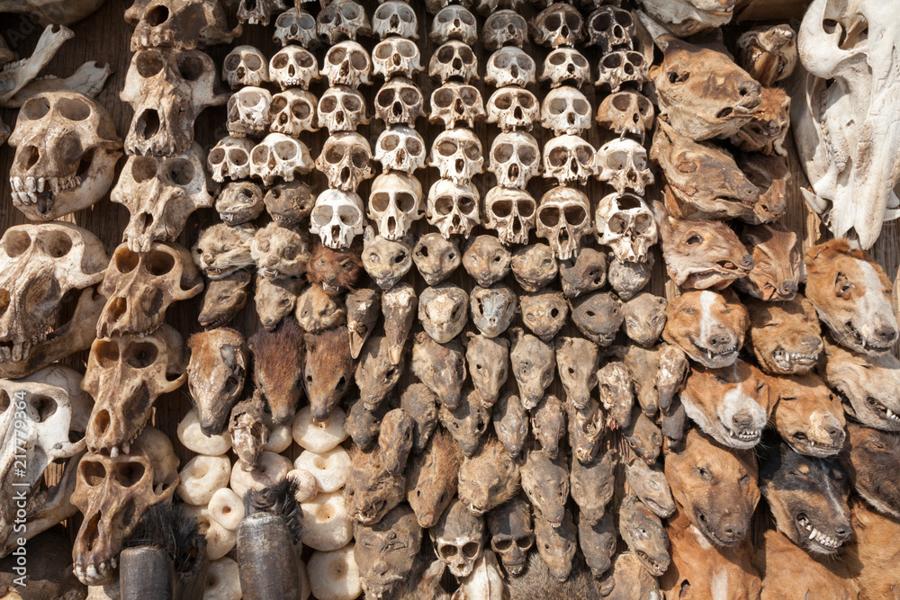 Akodessewa Fetish Market; Famous Voodoo Exchange
Lomé, the capital city of Togo, hosts the biggest voodoo market named the Akodessewa Fetish Market.
Products used for voodoo rituals, healing sessions, and sacrifices can be purchased at the voodoo market. Some of the products sold are human skulls, alligator parts, goats, monkey heads, and leopard skins and heads. Charms that could help with diseases modern medicine cannot fix, as well as talismans that bring good fortunes and get rid of harmful curses can also be found at the market. Visitors can also come across voodoo priests that will bless and heal them.
Haiti is known for the religion of voodoo, so many people assume it was founded there. But in reality, it originated in Benin's Benin, West Africa. Voodoo is now the official religion in surrounding areas of Benin. In Togo, the word is spelled "Voodoo", in Benin it is "Vodoun", while the most well-known version is Haiti's "Voodoo". While these names all sound similar and have stemmed from the original version of the Benin religion, they have developed into their own practices and traditions.
The market, which is run by the Beninese, is a sanctuary to many local practitioners and believers who travel from all over the world. The Akodessewa Fetish Market is four kilometers from the center of Lomé and can be accessed by taxi. It's open from 8:30 am to 6 pm. Locals that practice this religion treasure the market because of its resources. When practicing this religion, every animal and creature is divine and powerful.
[Source: The World's Scariest Places; Atlas Obscura]