Guest Editorial: The Native American Student Association Works to Welcome Indigenous Students
by Isabella L Saiz and Marena Fox Baker;
High School Students and Native American Student Association Members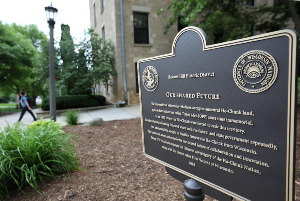 The Native American Student Association, also known as N.A.S.A., is a student group with chapters at Madison West and Madison East High Schools. Both club chapters were founded early in 2019.
The mission of N.A.S.A. is to spread awareness about issues and perspectives that impact Indigenous people. The organization plans to do this through community involvement and leadership. One of the group's primary goals is to help the Madison Metropolitan School District (MMSD) be a more welcoming place for Indigenous students.
Indigenous students often feel invisible. More representation and changes to school curriculum will help that situation. Invisibility is intolerable. N.A.S.A. hopes to help students feel comfortable engaging with their school and with the wider community. In addition, N.A.S.A. strives to help its members grow, learn, and share perspectives.
N.A.S.A. started a new project in 2020. The group set about acquiring land acknowledgement plaques for all four of the primary high schools in MMSD. A land acknowledgement is the recognition of Indigenous people and the space they occupy. For example, the University of Wisconsin has previously recognized the Ho Chunk legacy associated with the land occupied by the Madison campus. The school's land acknowledgement reads, "The University of Wisconsin-Madison occupies ancestral Ho-Chunk land, a place their nation has called Teejop since time immemorial.
In an 1832 treaty, the Ho-Chunk were forced to cede this territory. Decades of ethnic cleansing followed when both the federal and state government repeatedly, but unsuccessfully, sought to forcibly remove the Ho-Chunk from Wisconsin. This history of colonization informs our shared future of collaboration and innovation. Today, UW-Madison respects the inherent sovereignty of the Ho-Chunk Nation, along with the eleven other First Nations of Wisconsin."
In 2021, N.A.S.A. continued the land acknowledgement project and decided to expand it to all schools in the Madison district. The organization recently formed a sub-committee that has outlined a three-year plan for developing and implementing the land acknowledgement project. The sub-committee also discussed plans to create N.A.S.A. student groups at the middle and elementary school levels. Group members hope to provide support and community for other Native students in the district. As Indigenous persons, we would have loved to have had a group like this when we were younger.
Another N.A.S.A. project schedules Indigenous guest speakers. The pandemic has made it challenging to host in-person events. So, the organization has hosted its guest speakers virtually. Guest speakers and N.A.S.A. members are able to discuss many issues that impact Indigenous people. For example, Barbara Blackdeer Mackenzie met with N.A.S.A. in February and discussed intergenerational trauma and resilience.
N.A.S.A. continues to discuss and refine its future goals. The group will continue to grow by forming chapters at all MMSD schools. The group will encourage completion of the land acknowledgement plaque project, suggest a daily land acknowledgement in school announcements, discuss curriculum changes, and further develop plans to teach Indigenous history.
Most importantly, N.A.S.A. hopes to see the Madison Metropolitan School District partner with the Ho-Chunk Nation to connect and build on relationships with all first nations.
To join, please contact Isa or Marena at ilsaiz@madison.k12.wi.us or mlfoxbaker@madison.k12.wi.us