Mary Ann Shadd Cary: Radical Abolitionist Reporter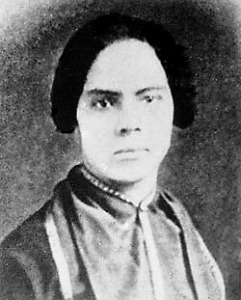 Mary Ann Shadd Cary was born on October 9th, 1823, in Wilmington, Delaware. She attended a quaker school in Pennsylvania and was the eldest of 13 children. Her father worked for a newspaper run by a famous abolitionist named William Lloyd Garrison, called the Liberator. Shadd Cary's father was a radical, and she followed right in his footsteps.
The "Fugitive Slave Law," which stated that previously enslaved peoples were to be returned to their former owners, even if they were in a free state, caused outrage. This led Shadd Cary to move to Canada with one of her brothers, and soon after, the rest of her family followed. In hopes to save other black people from this fate, Shadd Cary wrote a report in 1852 to let others know of the freedom that lay in Canada.
Inspired by her father, Shadd Cary decided to start her own newspaper. She titled it The Provincial Freemen, and wrote most of the articles herself. Her newspaper was mostly directed towards black communities and was being distributed once a week. Shadd Cary devoted her life to "antislavery, temperance and general literature." Along with the paper, Shadd Cary decided to open up a Canadian school focused on diversity and inclusion. She was dedicated to new ideas and changing the status quo.
In 1863, shortly after the Civil War broke out, Shadd Cary returned to the United States. She worked as a recruiting officer in Indiana and heavily encouraged black people to get involved and fight against the Confederacy and slavery. After the war, Shadd Cary became the second African American woman to earn a degree from Howard University in Washington, D.C.
Mary Ann Shadd Cary died in 1893, in Washington D.C., but her legacy still lives on. She broke many barriers for black people, and, more specifically, black women. She was bold and confident in her work and constantly strived to denormalize things she felt shouldn't have been normalized in the first place. Most importantly, whatever she did, she did fully.
[Sources: The New York Times; Encyclopedia Britannica; Biography.com]