Evelyn Cunningham was a True Trailblazer
in the Field of Journalism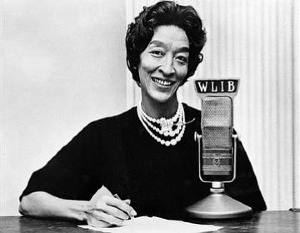 Evelyn Cunningham was in her lifetime a well-known journalist, civil rights activist, women's rights activist, and an inspiration for many. However, she is not well known today.
Evelyn Cunningham was born on January 2, 1916. When she was young, she moved with her family from Elizabeth City, North Carolina to New York City. She attended public schools in New York, graduating from Hunter High School in 1934. She attended four universities including the Columbia University School of Journalism, and received her Bachelor's degree in social science from Long Island University in 1943.
Evelyn's professional journalism career started when she wrote for the Pittsburgh Courier, a well-known Black newspaper, from the 1940's until the 1960's. During that time, she reported about social justice issues and the Civil Rights Movement. She documented many lynchings, which earned her the name, "the lynching editor." In 1961, she hosted her own radio show, titled At Home with Evelyn Cunningham, aired on WLIB Radio. On the show, she spoke about social and racial issues with well-known leaders like Martin Luther King Jr. and Malcolm X.
In 1966, she became the executive administrative assistant for famous baseball player Jackie Robinson. But she didn't just stop there. She later became Governor Nelson Rockefeller's special assistant after working on his campaign committee. Later in her career, she became President Ford's special assistant from 1975-1976. She worked in several more government jobs after completing her job for the president. She died on April 28, 2010.
Evelyn Cunningham achieved much as an African American female writer and journalist. Her life and her work left a big impact on our generation and the generations to come. She demonstrated that African American women can impact our society in many important ways.
Although few people today know about Evelyn Cunningham, people in her era were well aware of her contributions. Evelyn Cunningham's achievements make her a true trailblazer for today's young journalists and a shining example for all Americans.
[Sources: Louis Armstrong Educational Foundation; Penn State University Libraries; nytimes.com]