Era Bell Thompson: An Influential Force in American Journalism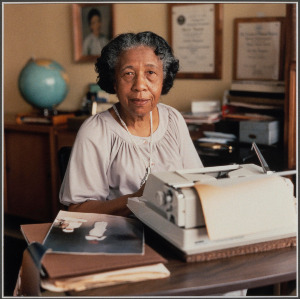 Imagine going to college, though being denied housing (in the dorm). Or, imagine cleaning toilets for a living even though you have earned a college degree. Or, just imagine graduating from college as a black woman just two generations away from slavery.
Era Bell Thompson had to face each of those challenges on her way to becoming an acclaimed journalist and author. She made history with her outstanding writing, journalism, and eventually earned global recognition. Her journey meant overcoming obstacles on her path to success, which made her an inspiring public figure.
Era Bell Thompson was born in Des Moines, Iowa in 1905. She and family moved back and forth between Iowa and North Dakota during her youth. The challenges she faced during this period helped build her character. She had a difficult time in school because she was one of the few black children in the schools she attended. Her mother's death while she was a student and dealing with racial prejudice and bullying were additional challenges. Despite this adversity and oppression, she persisted and graduated from Bismarck Highschool in North Dakota in 1924.
She next set her sights on going to college to become a writer and attended the University of North Dakota (UND). As a college student-athlete she broke five UND track records, tied two national records, and wrote for the campus' newspaper.
However, as a black woman, Thompson continued to experience prejudice and inequality at the collegiate level. In spite of her high level of achievement, she was denied housing, denied use of public transportation, and was regularly denied employment because open positions were suddenly filled when she applied.
Era Bell Thompson successfully completed college with a degree in journalism in 1933. Even as a new college graduate, her career path was defined by setbacks. She continued to be denied professional opportunities and employment and initially only found work as a housekeeper.
Her career in journalism didn't take off until she wrote her autobiography, American Daughter in 1946, 13 years after her graduation from college. After her autobiography was published, she finally found work as an editor. Eventually her persistence paid off and she became the managing editor of Ebony magazine, which was extremely popular at that time. She then travelled around the world to interview people of many different backgrounds for her book Africa, Land of My Fathers. She was honored with numerous awards and praised for her advocacy on the racial and gender issues of her time.
Era Bell Thompson was born only 40 years after the end of slavery. Going to college as a black woman was extremely rare at this time, especially in Iowa and North Dakota, both predominantly white states. Black people at the time often faced discrimination in housing, education and employment.
In spite of all this, Thompson still graduated and forged a successful career. Even though she couldn't use her college degree until a decade after she graduated, she became an influential force in American Journalism. Era Bell Thompson personifies the definition of a powerful and accomplished Black woman. She was a pioneer who dealt with adversity by using grace and tenacity and skill.
[Sources: Blackpast.org; history.nd.gov; nytimes.com]