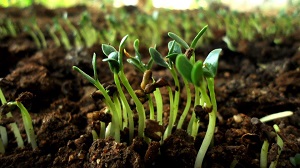 Toshiba began to develop electronic technology in the 80's and 90's. Recently, the technology company has expanded its reach to include agriculture. In their indoor grow rooms, called "clean rooms," Toshiba grows lettuce, spinach, and sprouts.
The rooms are "clean" because they are tightly controlled, including air conditioning, temperature, lighting, bacteria, and dust. Anyone who enters a clean room must wash his or her hands and wear special suits. The clean rooms are equipped with shelves for the plants, air conditioners for temperature control, water machines, and fluorescent lighting.
Toshiba recently hosted a tasting and presentation on how they grow their greens; the company invited many news outlets to the event to hear their plan to expand their business to healthcare and factory farmers. Toshiba wants to establish their clean rooms in areas like Russia and other regions where outdoor growing is not possible because of climate or space issues. Other tech companies have joined the growing trend, such as Fijitsu, Panasonic, and Sharp. Sharp took a different path though, as the company is growing strawberries instead of greens. Sharp is also growing their produce in Dubai.
Toshiba grows its plants in a clean room 35 miles outside of Tokyo, in Yokosuka, the same location where they used to make floppy disks in the 80s. Most of the company's existing equipment can be used for clean rooms, such as lighting, water disinfection and power generation equipment. Tablets are used to control the whole operation. Because the plants are grown indoors, growers don't have to worry about pesticides and bugs.
Growing in clean rooms is a great way to avoid the leaching of toxic chemicals, like pesticides, in food. This type of agriculture has already been made a reality for the people of Japan and Dubai. Hopefully their type of indoor agriculture will expand to many other places in the future.
[Sources: quartz.com ; treehugger.com ]