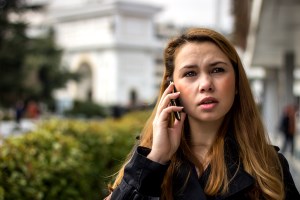 In the twenty first century, many people are having accidents caused by cellphone distractions. With the recent rise in cellphone use, distracted walkers have caused problems. In fact, there are many more people than ever before going to emergency rooms because of these accidents.
Distracted walking is common between ages 18 to 34. According to the National Safety Council, cellphone-distraction walking injuries increased in the last 15 years. Fifty-two percent of distractions occurred at home. Women older than 55 are most likely to suffer injuries, such as broken bones. New Yorkers were more likely to be distracted in comparison with residents of other cities.
Walking while texting can lead to injuries including a shattered pelvis, back, head or neck. Some accidents that can be caused by phone distraction include: being hit by a car, walking into a glass door, falling down a flight of stairs, tripping over a curb, or falling down into a fountain or swimming pool. According to the New York Times , a women from Brooklyn, "tripped, fell, and fractured her ankle, not while talking on her cell phone but when she looked down to put the phone away."
Peripheral vision can drop to 10 percent when a person is texting or talking on a phone while walking. People who get injured by being distracted almost never admit they were distracted by their phone. Teenagers especially rarely see it as a problem. Multitasking is central to today's world such as talking, listening to music, or even texting all at the same time. However, one experts Dr. Claudette M. Lajam orthopedic surgeon at NYU Langone Medical center and the Hospital for Joint Diseases said, "you can't really pay attention to more than one thing at a time."
To stay safe and avoid injuries or accidents, it's suggested that when using headphones keep a low volume in order to hear surrounding traffic. Stay focused on other people, objects, and obstacles. Don't jaywalk; use the crosswalk, obey traffic signals, and be aware of bicycles. Look ahead and not down and stay alert of vehicles pulling in or out of a parking lot. If it's necessary to take a call or send a text, stop and finish the task before continuing to walk or drive. Do not risk causing an accident it could be the biggest mistake of your life!
[Source: The New York Times ]