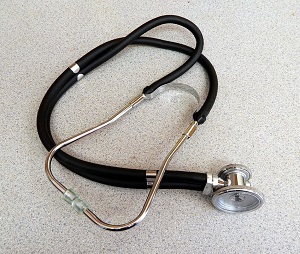 Medicine is important for treating illnesses. Doctors, nurses, and pharmacists all work together to keep people healthy.
Medical professionals are specialists who work in hospitals, clinics, pharmacies, and nursing homes. Doctors generally identify illnesses and make treatment plans. Nurses have medical knowledge and assist doctors and surgeons in procedures and taking care of sick patients. Anesthesiologists help numb pain safely during procedures by giving their patients the right amount of anesthesia, a substance used to lessen pain or put people to sleep during operations. Lab technicians and researchers test samples of blood and other bodily products for presence of illness. Pharmacists develop and provide drugs to the sick to help them cope with or recover from their illness.
In the United States, a doctor must study for at least seven years after high school. After completing medical school, he or she must serve as an intern in a hospital. Student doctors often continue training in order to become specialists in specific illnesses or parts of the body.
Surgery is a branch of medicine with specially trained doctors called "surgeons," who treat patients by operating on them. Surgery is sometimes combined with other treatments, like drugs or chemotherapy. Laparoscopes, a kind of medical equipment, allows surgeons to see inside bodies during an operation.
Diagnosis is an identification of an illness. No two illnesses and patients are ever exactly alike. To make a diagnosis, a doctor must look at three things: the case history, signs, and symptoms. A symptom is a sign of an illness, which often can lead to bigger problems. The doctor's experience and observations are often enough to make a diagnosis without any equipment.
Treatment is a method used to help a patient recover from his or her illness. Treatment involves taking prescribed medication, exercising, eating healthfully, losing weight, or quitting an unhealthy activity—like smoking. After treatment is over, doctors continue to monitor how the patient recovers.
Medicine is an important part of the world because without medical knowledge, diagnosis, and treatment, humans would not be quite as healthy as they are today. If you are lucky enough to have access to medical care, make sure you take advantage of it; you only have one body and one life.
[Source: Scholastic Childrens Encyclopedia ]