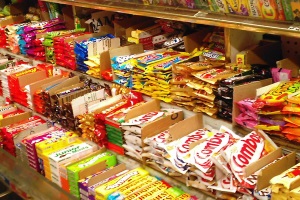 It is no secret that children and teens eat way too much junk food. Today an average child eats about three snacks a day.
Sugary snacks like Twinkies, Hershey bars and other candy, along with salty foods like chips and some pretzels can cause weight gain. Kids who constantly eat junk food are much more likely to develop childhood obesity.
Barry Popkin, a nutrition professor from the University of North Carolina, has been researching and collecting data on children and teens snacking habits. He looked at the eating habits of about 31,000 youth, ranging in age from 2 to 18. He discovered that kids today are eating 170 more calories per day than kids did in 1977. Harry Balzer, vice president of the NPD group, a market research company, has a differing opinion from Popkin. He says that parents are doing a good job by providing kids healthier snacks.
As children, we also can make healthier choices when picking out snacks. The next you are hungry, choose fruit instead of junk food.
[Source: USA Today ]