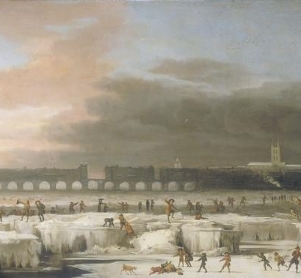 Some scientists are predicting that a lack of solar activity in 2030 could cause a mini ice age, which hasn't occurred in over 300 years!
The last mini ice age occurred centuries ago and caused global temperatures to drop quickly. In the United Kingdom, London's River Thames froze for two months during the winter of 1683-1684 with miles of sea ice stretching around England, Belgium, France, and the Netherlands. Known as the Maunder Minimum, records indicate that ice extended for miles around the UK during this period. Also in this time, scientists observed sunspots caused by convecting waves of fluids deep within the sun.
Recent mathematical models of the sun's solar cycle predicts solar activity will fall 60 percent, causing Earth's temperature to decrease rapidly, like the Maunder Minimum. Two different waves of fluid in layers of the sun's interior are thought to control solar activity. The two waves operate on 11-year solar cycles between the northern and southern hemispheres of the sun. When the waves are synchronized, much solar activity occurs, such as sunspots. But when these waves are not synchronized, temperatures on Earth begin to fall.
Valentina Zharkova, a mathematical professor at Northubia University, presented this information at the recent National Astronomy Meeting in Wales. She and her colleagues studied solar activity data from 1976 to 2008. They used the data to predict how two separate waves would react during the next solar cycles.
Zharkova and her colleagues ultimately discovered that the two waves will increasingly offset by cycle 25, which will take place in 2022. When cycle 26 sets in during the years of 2030 to 2040, these two waves will be completely out of synch. These changes between solar cycles could cause disruption leading to less solar activity; and therefore, global temperatures would drop.
If Zharkova's prediction is correct, Earth could see a return of the Maunder Minimum's freezing temperatures in the next 15 years.
[Source: Wired.co.uk ]