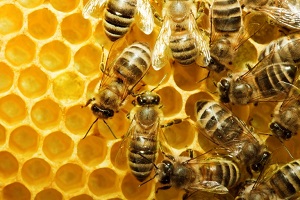 Spring has finally sprung. Hello flowers, bees, and honey! But how is honey made?
Honey is a very versatile food. People use it to sweeten drinks and foods, eat it plain, or put it on food as a topping. However, there is a long process before this sweet goo ends up on your plate.
First, the bee finds a flower and drinks its nectar. If it can't find any nectar, turns other sweet resources like liquids excreted from certain bugs and secretions from plants. Instead of digesting the nectar, the bee stores it inside of its honey sac. This sac is an enlargement of the digestive tract, located in front of the bees stomach. Due to chemical reactions, the sugars in the nectar change while in the bee's stomach.
When the bee finally gets back to its hive, it deposits the nectar into honeycombs and lets most of the water evaporate from the nectar. The bees leave what is now honey in the honeycombs until they need it for food.
Humans collect this honey by squeezing it out of the combs with a press or taking it out with a machine called a honey extractor. Once extracted, honey has a very long shelf life. In fact, the honey stored in honeycombs can be stored almost forever!
Honey is delicious, but making it is more complicated then you might have thought. Next time you enjoy this sweet product, make sure to thank the bees for their hard work!
[Source: The Big Book of Tell me Why ]