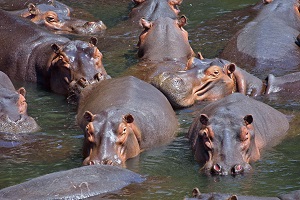 Did you know that the word "hippopotamus" is Greek for river horse? The horse and hippopotamus certainly have many similarities like wide nostrils and small ears; however, the hippopotamus more closely resembles a really big pig.
The hippopotamus, a huge creature, weighs three and a half to four tons. About five feet tall and 12 feet long, hippos have six tusks on the top of their mouths and four on the bottom. They usually eat at night and often travel several miles for food. Hippos have really bad eyesight but a very good sense of smell. The hippopotamus' favorite food is grass.
Hippos also eat water plants and crops of farmers. This is why humans are their only natural enemy. When hippos eat crops they trample them; therefore, some farmers try to drive them away or kill them.
A baby hippo is called a calf . Calves can swim almost right after birth but usually will ride on their mothers' backs. They also drink from their mothers' right after birth. Calves are targeted on and off land by lions and alligators, but fierce mothers protect them.
Millions of years ago, multiple types of hippopotamuses lived all over Europe, India, and Africa. But today, they mainly inhabit Africa. Here hippos actually run underwater, where they can stay for about six minutes. Hippos travel in wild herds, but much of today's hippo population lives in reserves.
You might not know that, although cute, hippos are actually aggressive creatures. They have such powerful jaws that they can even bite an alligator in half! It may look like a male is yawning, but really he's charging another male. Adding to their scary nature is their sweat – reddish oil drops that look like blood.
The hippopotamus is a fascinating creature that everyone should learn about! But, if you ever see one in real life, beware – they're definitely not as friendly as they might look.
[Sources: The King Fisher Children's Encyclopedi ; Scholastic Children's Encyclopedia ]