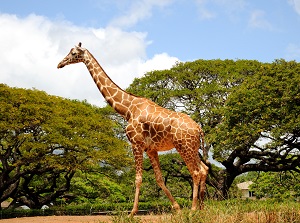 Giraffes are like snowflakes – no two look alike. But giraffes share characteristics; they have huge hearts and tongues, to they only give birth to one calf and their "vulnerable" status.
On average, giraffes tend to live 20-25 years. Like any other mammal, they have vertebrae. They have long blue tongues that reach up to 17 inches long. Giraffes have double the blood pressure of a large animal due to their gargantuan size. Because they have very long necks, more pressure is needed to make sure the blood travels to the brain. They are also power nappers. If they sleep two hours, they will be able to stay awake for the next 24.
Females gain sexual maturity at age three and males do at four. Giraffes mate is year-round. Once impregnated, they are pregnant for 15 months. Females give birth every two years. Giraffes usually have only one offspring but in rare cases they can have two. Giraffes sometimes care for others' offspring if the biological mother is absent trying to find food.
Giraffes use their long tongues to wrap around grass, shoots, and leaves from Acacia trees. They eat up to 140 pounds of leaves and twigs a day to support their large physiques. Male giraffes weigh 1,764lbs to 4,255lbs, while females weigh 1,213lbs to 2,601lbs.
Giraffes live all over Africa, in the Central, Eastern, and Southern regions. The Masai, Rothchild's, and Reticulated subspecies live in the central region of Africa, while Angolan giraffes, are native to the southern region of Africa.
For self defense, giraffes will kick predators with a great amount of force. Giraffes are vulnerable to hunting by humans for their meat, fur, and tails. Some people consider their tails to be good luck. Giraffes are considered vulnerable as a population, but are still stable. Currently, no laws protect them.
[Sources: World Animal Foundation ; Encyclopedia of Animals ]