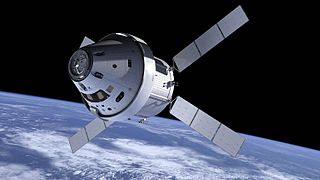 Since Apollo 17, human beings have not traveled more than 380 miles above the Earth's surface. But later this year, that will change. NASA is currently working to build a capsule designed to send astronauts more than 3,600 miles into deep space.
This capsule, Orion Multi-Purpose Crew Vehicle, is being built at the Cape Canaveral Kennedy Space Center in Florida. The capsule includes three sections: a 16.5-foot-wide conical crew module that can hold four astronauts for more than three weeks, an emergency launch abort system, and a module for propulsion power and life support systems. John McCullough, the engineer who leads Orion's 120-person assembly team, said, ''On any given day, there are more and more pieces on it. It looks more like a spacecraft now.''
The 25-ton vehicle will be sent on its first unmanned trip in December of 2014. It is estimated to be a four-hour flight twice around the earth. Its apogee, or the furthest distance it will travel from Earth, will be 3,671 miles. The flight will test the crew module's re-entry system, which includes a number of parachutes and the largest heat shield ever built. In 2017, a second unmanned flight is planned to travel around the moon. By 2021, NASA aims to send long distance-manned flights to asteroids or even Mars.
[Source: Smithsonian ]