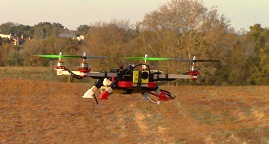 At the University of Minnesota (UM) in Dakota County, agricultural researchers set up an eight- armed drone to send 200 feet in the air to begin its task. The drone is on the front line of their scientific explorations. Scientists at the UM are testing low-flying drones for their ability to find aphids, a grasshopper-like bug that ravages plants in the Upper Midwest.
"Unmanned aircraft vehicles are really going to change the way that we actually do agriculture," stated Ian MacRae, a professor of Entomology at UM-Crookston.
Remote sensors can scan plants for overall health, water deficiency, growth rate, and disease problems to find where to use pesticides, in a process called precision farming, only in areas that have aphids destroying plants and would normally be targeted with pesticides and fertilizers.
The Association for Unmanned Vehicle Systems International (AUVSI) calculated that drones will create 70,000 new jobs in the U.S., of which 34,000 will be manufacturing, thus ultimately providing $13.6 million in the next three years. By 2025, 100,000 new jobs worth $82 billion are projected.
Agriculture makes up about 80 percent of the likely market for drones. It is expected to grow after the Federal Aviation Admission (FAA) finalizes regulations on commercial uses. The number of drones being used is somewhat immeasurable. "I'd say you could find somebody in each county in Minnesota who's using one," said Matt Rohlik, Founder and CEO of Midwest Aerial technologies, a recent start-up that works with drones in agriculture and other industries in Renville.
Companies like Rohlik's need permits and have special rules. Farmers with drones are considered hobbyists by the FAA and don't need permits.
Jerry Johnson, the CEO of Farm Intelligence2, estimated that thousands of farmers in the Mid-west cornbelt own and use drones. His main business is to analyze pictures and data that these special drones provide as they fly over a farm. At the University Minnesota Research Center, researchers found that in recent trials, the drone took five minutes for four passes or about 48 seconds per pass over a field.
People who know about drones say that their interest diminished when they realized that most of what they were good for was agricultural, and even then the work was limited.
Johnson said, "We're in the first inning, and there's a lot of work that needs to be done yet...If you simply fly over a wedding or something and take some pictures, that's fine, but if you're going to do something with the data it's more complicated."
Dan Kieser of the University of Minnesota Extension explained that translating the data from drones is a difficult task, which will be especially useful if able to detect disease, small aphids, or deficiencies in water or nitrogen levels.
At UM, the person to go to about aerospace is Hamid Mokhtarzedeh, who also participated in the aphid research. He said one speed bump was that drones were difficult to operate and needed expertise in technology to obtain the data.
Since drones are recent inventions, farmers can get them for a range of prices. Costs for Quad-Copters with simple cameras start at around $1,000 and increase to nearly $30,000. Some even surpass that price if they have a more state-of-the-art technological system.
Johnson said that his company can translate information for $.70 to $3.00 for every acre depending on the factors.
Scientists at UM fly drones over areas of soybeans at the Rosemount Research and Outreach Center every one to two weeks for a whole growing season. The bean plants are split into smaller plots, and each is filled with a different concentration of aphids and then fenced in with a mesh net to keep animals out and the correct amount of aphids in.
Bob Koch, a UM Extension Entomologist said, "The aphids are so tiny, so we're not trying to see the insect itself, we're trying to see changes that the insect causes to the plants."
Drones are also being experimented with and tested all across Minnesota. The drones are tested for effectiveness at spotting the destruction left by Colorado potato beetles and root maggots. The maggots primarily attack sugar beets while the beetles target wild rice.
In the near future, drones could become a major tool for crop-scouting companies. These multimillion dollar titans work alone or for farm companies during a growing season to scout their crops on ATVs or just on foot for any deformities, abnormalities, or deficiencies.
Even with the scouts' personal walking and checking or their satellites or planes, they will always miss a spot that would be a simple fix if found.
Rohlik said, "At some point, drones will make farming even more precise. If we can reduce some of our pesticides or be more efficient with our nutrients, that's better for everybody. For the farmer's budget, for Mother Earth, for people – and for our end consumers."
[Source: Star Tribune ]