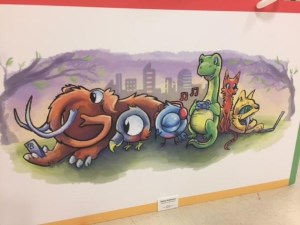 Alyssa Anderson, a 7th grade student at James C. Wright Middle School, was recently chosen from thousands of applicants as the Wisconsin winner of the 'Doodle 4 Google' contest.
Students across the nation were asked to re-design the famed Google logo using the theme, "what I see for the future," as inspiration. Google also asked each participant to submit a 50-word statement describing the message, process, and design of his or her doodle.
Alyssa's doodle, titled "New Life for the Extinct," depicts fantastical creatures in a natural setting against a cityscape background. Google representatives surprised Alyssa and other Wright students with a congratulatory school assembly.
Raya Broad, an eighth grade student at Wright and Wright Free Press staff reporter, is thrilled for her peer Alyssa. "It was awesome when I found out [Alyssa] won this year. We are really good friends and she is such a great artist," said Raya.
Alan Cruz, also a Wright Free Press staff reporter and classmate of Anderson's, agrees with Broad. He remembers watching Alyssa working on her doodle in class. "I told her it looks amazing," recalled Alan.
Google representatives will evaluate the work of state winners and announce a national 'Doodle 4 Google' winner on March 31. The chosen design will be featured on Google's homepage for millions of internet users to see. Additionally, the winner will receive $30,000 in college scholarship money and a $50,000 Google for Education grant for his or her school. The school grant will go toward improving the computer lab and technology programs in the winner's school.
We at Simpson Street Free Press are impressed and inspired by Alyssa, and we hope you will join us in supporting her design and Wright Middle School. To vote for Alyssa's doodle, which you can do from multiple devices once per day until March 6, visit doodles.google.com.
Good luck, Alyssa! We'll be pulling for you from SSFP newsrooms.
[Sources: WMTV ; Wright Free Press Student Interviews ]