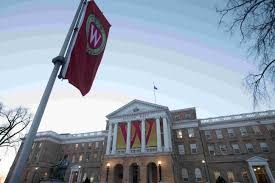 A five-year, $1 million grant will benefit many students studying science, technology, engineering and math (STEM) at colleges in the University of Wisconsin system. The grant is aimed at helping students who transfer from a two-year institution as they move into a four-year college within the UW system. The graduation rate of students who enroll at a four-year college as freshmen is five percent higher than that of students who begin in a two-year program and later transfer.
According to an announcement by UW-Madison, the University and Madison Area Technical College (MATC) will partner during the first year of this two-year program. More college partnerships will follow all across the state of Wisconsin.
The majority of MATC transfer students attending UW-Madison are STEM majors. This grant will support these students before they even turn in their transfer applications by connecting them with UW-Madison faculty, some of whom may be their future professors.
The overall point of this partnership and grant is to make the transition from STEM programs at UW colleges to the University as easy as possible, especially considering that many of these transfer students are first-generation college-goers or underrepresented students of color. Easing their entry will hopefully decrease the dropout rates and increase the number of career-ready STEM graduates.
[Source: Madison.com ]