Land Purchase in Western Dane County Provides Public Access to Morton Forest
by Hiba Al-Quraishi, age 14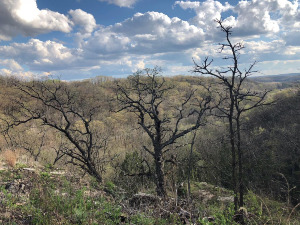 A generous gift from a private landowner made 22 years ago is prompting new conservation action in Dane County.
In 1999, 120 acres of Morton Forest were deeded to Dane County by Steve Morton, a retired chemist, and environmentalist. The land is about 2.5 miles south of the Town of Mazomanie. To create better access to Morton Forest, Dane County now plans to purchase 65 acres of land in the Village of Black Earth.
Similar to Morton Forest, this new piece of land in Black Earth has amazing vistas, as well as small farmlands, a stone quarry, and rock outcroppings.
According to Ariana Vruwink, a representative for County Executive Joe Parisi, the purchase will expand the public's access to Morton Forest, "The potential purchase is directly south of Morton Forest and will offer opportunities for hiking and birdwatching in the Driftless Area," Vruwink said.
The estimated cost of purchase for the 65 acres of land is around $750,000. This purchase was agreed to at a county board meeting in early February of 2022. The funds needed to buy the land are within the county's 2022 conservation budget.
Morton Forest officially opened to the public in 2016. Due to its topography, getting into the forest via Reeve Road is difficult, Vruwink states. Purchasing land from Black Earth will allow Dane County to construct a gravel driveway that will provide better access into the forest for residents using the woodland's hiking trails.
According to Parisi, "Morton Forest is a tranquil property in Dane County that offers scenic views of the Driftless Area and opportunities for visitors to enjoy the outdoors.".
Dane County plans to purchase additional land that will allow for better access to Morton Forest as well as provide "more outdoor recreation opportunities." Soon, visitors can enjoy the park's two magnificent vistas that look over the countryside, along with year-round hiking trails.
[Sources: Wisconsin State Journal ; danecountyparks.com; Madison.com ]