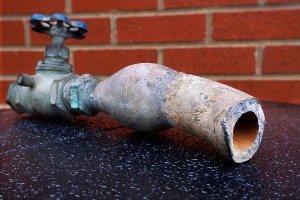 Wisconsin is struggling with lead poisoning among children; however, children lead-poisoning cases are opening in Milwaukee. A troubling report reveals that Milwaukee's lead-poisoning prevention program has not been taking the most basic of steps to protect its youth.
Wisconsin childhood lead-poisoning rates are shockingly going head to head with those of Flint, Michigan. In 2016, 4,348 children were diagnosed with lead poisoning, having blood lead levels far above those of a healthy individual, and almost 60% of those children were from Milwaukee.
About 108 lead-poisoning cases reported to the Childhood Lead-Poisoning Prevention Program between 2012 and 2017 were recently examined by the state Department of Health Services. Examination of these cases revealed that over 90% of these cases were closed before the child's blood lead levels had returned to normal. It was also discovered that the city failed to do full or even partial assessments of viable lead hazards for most of these cases. These assessments would normally include corrective orders.
A startling discovery made by this report also showed that the city's most basic protocol for intervening in cases involving children doesn't even meet the state's minimum requirements. A leading health sciences expert, Bruce Lanphear, states that residents should "absolutely" be concerned about this discovery. He also states that "clearly there are problems are within the program itself in following through with childhood who have clear-cut lead poisoning." He admits that a lot of health departments are failing to keep up with guidelines, but based on the state report, Milwaukee is worse than most.
Mayor Tom Barrett's administration was given until June 30 to put together a correction plan. Milwaukee is required by the state to look at all 491 lead-poisoning cases reported to the city between 2012 and 2017 to ensure that each child received proper home inspection and follow-up care. The report concludes that most of the cases failed to provide required case management or follow-up care. They declared that homes that did not receive home visits are yet to be inspected or considered lead safe environments.
Patricia McManus, interim Health Commissioner concurs with the report's findings and adds "the health and safety of the children of Milwaukee must be our first concern. I remain committed to working with the state to improve our lead program and ensure we are in compliance with the state's laws and obligations."
Many people, including officials, have their doubts that this problem is being addressed. Milwaukee Alderman Michael J. Murphy asks, "have the recommendations of that report and findings been followed up upon? Unfortunately, I don't think they have." The health of Milwaukee children should never be in jeopardy, especially if there is something we can do about it.
[Source: jsonline.com, observatory.journalism.wisc.edu ]