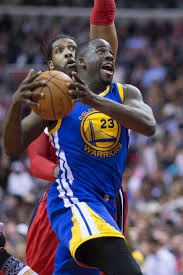 Draymond Green grew up in Michigan where he attended Saginaw High School. Born to Mary Babers, Wallace Davis and stepfather Raymond Green, he has five siblings. He now plays for the Golden State Warriors.
Green's basketball career began in 2008 when he played for the Michigan State Spartans. He played in 145 games in four years, starting in 67 of them. He finished his college basketball career as the school's all-time leading rebounder, rebounding 1,096 times. His three triple-doubles were surpassed only by Earvin "Magic'' Johnson in Spartan history.
Draymond Green was selected by Golden State in the second round of the 2012 NBA Draft 35th overall. He has played in 40 playoff games, starting in 26 of them. He signed a contract extension with Golden State on July 9, 2015. In Warriors' history, he ranks third in steals, 56, and ninth in rebounds, 321.
Green has donated $3.1 million to Michigan State, which is the most an athlete has ever donated in Spartan athletics history. He also takes part in the Make-A-Wish holiday party at Golden State's practice facility.
Green's life demonstrates how anything can happen if you follow your dreams. Green went from playing high school basketball to being a star in the NBA. Now that he is a star, he's giving back to his communities.
[Source: nba.com/player ]