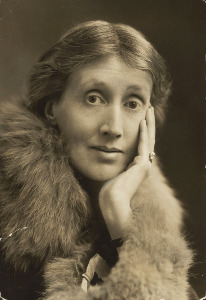 British writer and feminist Virginia Woolf is one of the most influential writers of the early 20th century. Her writing challenged the values recognized during the Victorian era and made progress for women. Although her writing was unpopular during her lifetime, she was an inspiration for women in questioning social normalities for future authors.
Virginia Woolf was born on January 25, 1882 in London as Adeline Virginia Stephen and experienced many tragedies during her life. Her father, Leslie Stephen, created the Dictionary of National Biography and remarried to Julia Duckworth who had three children from a prior marriage, Stella, George, and Gerald. In addition to her half siblings, Woolf had three full siblings, Thoby, Adrian, and Vanessa. Virginia and her siblings were home-schooled. The tragedies bean at age 13 when her step mother died, and her half-brother, Gerald, sexually abused her. In 1897, her half-sister Stella, who was like a second mother to her, died of peritonitis. Virginia's father died of cancer in 1904, and within a month, Woolf fell into a grave depression and was admitted into a nursing home, taking time away from everything that was happening.
She was a founding member of the Bloomsbury Group, an informal gathering of former Cambridge University students, along with Thoby and Vanessa. This group became very well known for their rejection of the Victorian values in the areas of religion, art, and social and sexual conventions with established English writers including Lytton Strachey, John Maynard Keynes, and Roger Fry. But two years later in 1906, her brother Thoby died of Typhoid fever. During the time before Thoby's death, Virginia started teaching English and history classes at Morley College and writing book reviews and articles for different news firms.
In 1909, Virginia planned to marry Bloomsbury Group member, Lytton Strachey, only to cancel plans three days later. A year later, Virginia took part in the famous Dreadnought Hoax where she and others played an anti-establishment prank on the Abyssinian dignitary to gain access to a top-secret battleship. In 1911, she moved into a house with the Bloomsbury Group members, marrying one of the members, Leonard Woolf, in August of 1912. She had three more mental breakdowns, eventually attempting suicide in September, 1913 after completing her first novel, The Voyage Out, which was published in October, 1915. Woolf unfortunately committed suicide on March 28, 1941. She filled her pockets with stones and walked into a river in Rodmell, Sussex. Her body wasn't found for three weeks, but she left a suicide note to her husband, stating "I feel certain that I am going mad again: I feel we can't go through another one of those terrible times. And I shan't recover this time."
In her lifetime, Virginia Woolf wrote many books that were very unpopular at the time they were published but grew popular into the mid-to-late 20th century. Leonard and Virginia Woolf founded the Hogarth Press in 1917 and published her 32-page pamphlet named "Two Stories" and continued to write more books under the publishing press. Her first novel published by the press was Monday and Tuesday (1921) which was followed by Jacob's Room (1922), To the Lighthouse (1927), The Waves (1931), and many others.
Her last novel, Between the Acts, was published posthumously in 1941. Because Virginia Woolf died before she could see a time when her works would be accepted, the only known award she received was the Tallest Woman Writer Award in 1927 by the London Evening Standard newspaper. One of her most notable quotes that reflects on her writing career and what is necessary to become a successful woman author is, "A woman must have money and a room of her own if she is to write fiction."
Virginia Woolf was a renowned female author whose writing paved pathways for future women journalists and authors and changed the way women write despite the tragedies and challenges in her lifetime.
[Source: Woman Who Changed the World ]