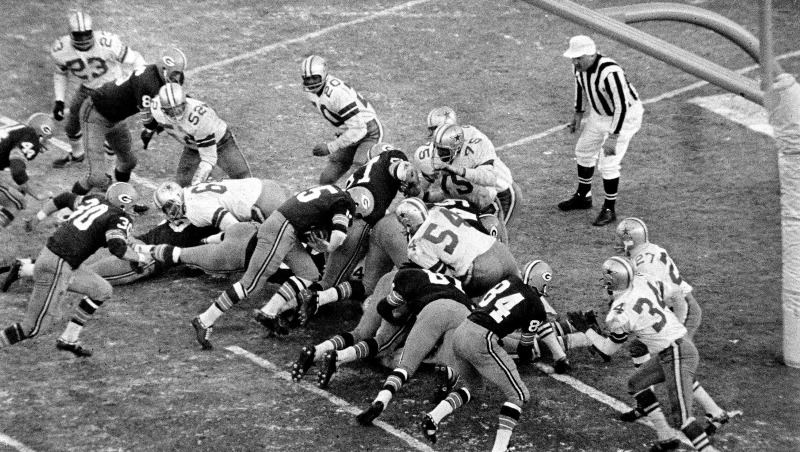 Greatest Game in Football History? The 1967 Ice Bowl!
by Jacob Dunn, age 12
The "Ice Bowl" was a Green Bay Packers football game that forever left its imprint on NFL history. It is also one of the most important sporting events in Wisconsin history.
On Sunday, December 31, 1967 the Packers and Dallas Cowboys were set to play in the league championship game for the second year in a row. However, cold weather conditions came out of nowhere overnight. Temperatures fell quickly and by game time it was -16 degrees with cold and brutal winds.
The Saturday before the game, two television networks came to broadcast the game to national audiences. The city of Green Bay was packed with people who labeled the city "Titletown USA" because the Packers had won the previous two titles. Now they were looking for their third straight championship.
Both teams had amazing coaches, with the Dallas Cowboys being led by Tom Landry, one of the best defensive minds of his time. The Green Bay Packers had Vince Lambardi, one of the best offensive minds. Both coaches had served with the New York Giants as assistant coaches.
Due to the severe weather conditions, the heating grid underneath the field wasn't working. This caused the players to play on a frozen field in the extremely cold weather. But the weather also caused drama.
The game started with the Packers having a very strong start against the Cowboys. Bart Starr threw an eight-yard touchdown pass to Boyd Dowler. Due to the harsh weather conditions, it would take a while for either team to score. But in the second quarter, the Packers scored again on a 46-yard touchdown pass to Dowler. Then, the Packers had an unlucky fumble caused by bad conditions and the Cowboys returned the fumble for a touchdown making the score 14-7. The Cowboys also hit a field goal making the score 14-10 at halftime.
Neither offense was able to score for a while until the Cowboys outplayed the Packers by faking a running play until Dan Reeves threw a 50-yard touchdown pass to Lance Rentzal. This made the score 17-14, with the Cowboys in the lead. The Packers then took possession of the ball at their own 32-yard line with a time of four minutes and 55 seconds left in the game.
The Packers tried several short passes and moved the ball downfield. But from the one-yard line, running back Donny Anderson tried two runs that fell short. The Cowboys with their "Doomsday Defense" stopped the Packers leaving them in the third down. Now, with only 16 seconds left in the game, there was only time for one more play. Quarterback Bart Starr did a quarterback sneak. This gave the Packers the winning touchdown of the game, taking them to the Superbowl. They went on to win that Superbowl against the Oakland Raiders 33-14.
This game was one of the harshest games in NFL history. It has gone down as one of the greatest games in the history of the National Football League. The playing conditions were brutal for both sides and was hard on both teams. But the 1967 championship game will forever be known as the "Ice Bowl."
[Sources: Wisconsin State Journal ; profootballrefrence.com ]