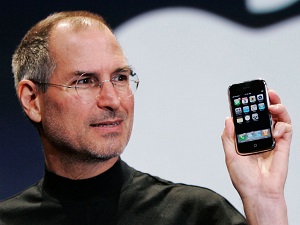 Steven Paul Jobs, co-founder of Apple Computers, was born to two University of Wisconsin graduate students. However, it was his adoptive parents who shaped him into the brilliant man he became.
Jobs was born on February 24, 1955, in the large coastal town of San Francisco, California. His birth parents were Joanne Shieble and Abdufatah Jandali. Because of their preoccupation with their graduate studies, his birth parents gave him up for adoption. Clara and Paul Jobs adopted and raised the young Steve Jobs in their Silicon Valley home. There, Paul Jobs worked as a machinist.
In high school, Jobs met someone else who would eventually help shape his future: Steve Wozniak. At the time, Wozniak was a University of California student. Wozniak recognized that Jobs was one of the few people at that time who knew about digital chips and how they work.
Once Jobs graduated high school, he attended Reed College, but he lacked direction there and dropped out after six months. Instead of attending college, he audited various classes for 18 months. In 1974, he briefly worked for Atari, an early video game company, before leaving a few months later to travel to India.
In 1976, Jobs and Wozniak came together to co-found Apple Computers. Apple began as a small business in Jobs' garage that has since transformed into what is one of the most well-known computer companies of the modern day. By 1978, Apple had earned $7.9 million in sales. That same year, at age 23, Jobs' ex-girlfriend gave birth to his child.
After collaborating with XEROX Parc in 1980, Apple grew substantially to include 1,000 employees and 15 locations. And, at age 25, owning 26 percent of Apple, Jobs had $250 million to his name. As people bought stocks, Jobs' company continued to increase in value.
Jobs married girlfriend Laurene Powell in the early 1990s. They lived in Palo Alto with their three children. Although Jobs had earlier denied fathering a child at age 23, this very same child—his daughter Lisa—moved in with Jobs and his family in her teens after their long estrangement.
Searching for someone to take control of Apple, Jobs persuaded Pepsi businessman John Sculley to come work for him. Soon after, Apple's sales dropped below IBM, a rival in the computer industry. Sculley blamed Jobs for the failure and promptly forced him out of Apple.
Jobs quickly found employment with an animation company. He transformed this company into Pixar Animation Studios, which went on to make countless family classics, including Toy Story.
While Pixar was triumphant in the animation race, another company simultaneously led by Jobs, NeXT Inc., was less successful. Apple, which was failing under the direction of Sculley, bought NeXT in an attempt to boost Apple once again. This was Jobs' way back into his former company. He soared through the ranks and ultimately helped restore Apple to its former glory.
Jobs' life changed forever in 2003 when he found out that he had a rare form of pancreatic cancer. Apple employees worried about what would happen to their profit if company shareholders found out about Jobs' condition. After nine months of seeking European herbal remedies, Jobs finally went to see a doctor. A surgeon removed his tumor in 2004 in a seemingly successful procedure.
While the 2000s were a tumultuous time for Jobs personally, in these same years Apple saw unprecedented success. Once Apple's best-selling items such as the MacBook Air, iPod, and iPhone came out, competitors were scrambling to make something to match the developments. The year 2007, in particular, was very prosperous for Apple. The company's stocks were $200 apiece and had a profit of $1.5 billion and a total gross income of $8 billion. Jobs' company had become the top-of-the-line in computer technology.
Jobs' health soon became a global topic of discussion. He explained to the public he had a hormone imbalance but little additional information was offered. The last few years of Jobs' life were spent with his family on the west coast. At age 56, he succumbed to pancreatic cancer. Jobs, father of three and iconic co-founder of Apple, died on October 5, 2011, in Palo Alto, California. According to those who were with him at the time, Jobs' last breath was accompanied by two words; "Oh, wow..."
[Sources: Steve Jobs: Insanely Great ; Biography.com ]