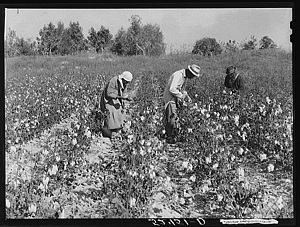 America owes its riches to African slaves. The institution of slavery started during the 17th and 18th centuries in the United States. The country had plenty of natural resources, but it did not have enough labor to farm the land. To the rich white plantation owners, African slaves seemed to be a perfect solution. While there were Irish and European slaves, they were not as abundant as slaves of African origin. Also, Africans were not susceptible to "Old World" diseases such as measles.
Slaves were known to be the cheapest and most reliable labor. Also, these slaves were highly skilled in many areas. They were craftsmen, who knew a great deal about cotton and rice cultivation, which made them more valuable.
Slave-owners sold slaves in auctions, which were publicized on posters, fliers, and in newspapers. The age and gender determined the price of each slave. For example, a "Full Hand slave" was an adult male and a "Three-Quarter Hand" slave was an adult female or older slave. On average, a grown man cost around $2,000 in 1860, which would be $30,000 today!
Slavery changed the lives of many people and families. The transport of slaves into the United States ended in 1808. However, the children and grandchildren of captured slaves weren't set free until much later. If landowners or wealthy white men wanted slaves, they bought them in America. As the main plantation locations in the upper South diminished and landowners didn't need as many laborers, they began to sell their slaves. Slave trade in the deep South rose quickly. Plantations grew to enormous sizes and made extraordinarily large amounts of money; next to nothing was given to slaves.
Slavery has caused much pain and suffering; its legacy lives on today.
[Source: Daily Life on a Southern Plantation 1853 ]