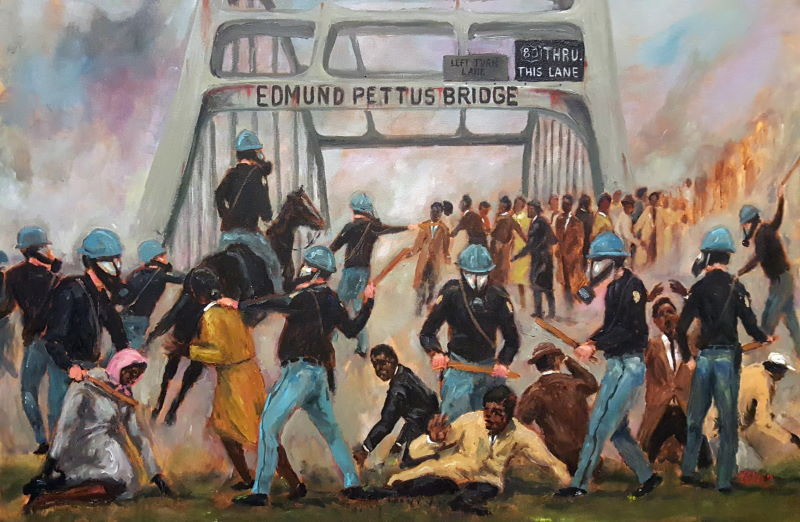 Proposal to Rename 'Bloody Sunday' Civil Rights Landmark Garners a Half-Million Signatures
by Sandy Flores, age 14
Michael Starr Hopkins is currently circulating a petition he created to rename the Edmund Pettus Bridge in Selma, Alabama. To date, over 500,000 have signed the petition.
The newly proposed namesake, John Lewis, was an American politician and civil-rights leader who served in the United States House of Representatives from Georgia. He recently passed away on July 17, 2020. He was known as one of the "big six" leaders who organized the 1963 march on Washington during which Martin Luther King delivered his famous "I Have a Dream" speech. Lewis fulfilled many key roles in the civil rights movement, which fought to end legalized racial segregation in the United States.
The Pettus bridge was the scene of the infamous "Bloody Sunday" march for Civil Rights. On that Sunday, March 7th, 1965, many brothers and sisters came together to march along the 54-mile highway from Selma, Alabama to the state capitol of Montgomery. Many people were almost beaten to death while others suffered severe injuries. John Lewis had his skull fractured by police during the first of three scheduled marches from Selma to Montgomery.
The march was televised, allowing viewers from around the nation to witness the violence that took place on the bridge. Historians often say this was a crucial turning point. That day's events helped push the Civil Rights Movement into America's living rooms and public opinion quickly turned in favor of the movement. Eventually, this led to passage of the "Voting Rights Act" that became law later that year.
Edmund Pettus was born July 6, 1821, in Limestone County, Alabama. He became a prominent figure in local politics. In the conservative Democratic party, Pettus served as a chairman of the Alabama delegation from 1872 to 1896. According to University of Alabama associate professor of history and Summersell Center for the Study of the South director, John Giggie, during this time Pettus became "the state's most powerful political broker." Many people suspected that Pettus held the position of grand dragon for the Ku Klux Klan. He led the KKK up until his election as a senator.
"No one could have achieved such political power without being aware of, and at least tacitly supporting, these campaigns of white supremacy," said Giggie.
In 1940, Selma dedicated the bridge in Pettus' honor. The act of naming a bridge after Pettus is "part of a larger torrent of political effort to make the Civil War not simply a distant memory, but a lived reality in which the South is portrayed as fighting a just cause," Giggie said.
Michael Starr Hopkins founded the "John Lewis Bridge Project" a non-profit organization petitioning for the name to be changed. He primarily started the petition because, "it is about making sure kids have access to education, parents have access to better jobs, it is about improving people's lives. That was the purpose of the march in 1965 and that's the purpose of the John Lewis Bridge Project."
In a recent interview, Hopkins stated, "This country needs to reflect who we are. The bridge is a symbol, but this is about more than just the bridge. It's about rebuilding Selma, a primarily African American community that has been forgotten."
[Sources: Newsweek ; USA Today; The Atlanta Voice ]