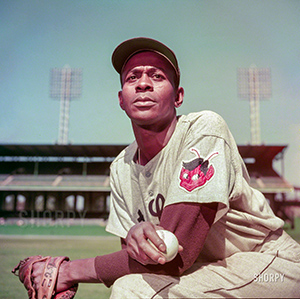 With a career spanning nearly 50 years, Satchel Paige was one of the greatest pitchers of all time—not only in the Negro League but also in the history of baseball. Born Leroy Paige, he first received the nickname "Satchel" when working as a baggage carrier at a train station. Soon, the name Satchel Paige would become a famous one.
Paige's exact age is a mystery, but it is commonly believed that he was born on July 7, 1906. Many are interested in his age because his outstanding career lasted so long. Throughout this career, Paige had many accomplishments. In the 1933 season, for example, he pitched 31 wins and only four losses. In the same season, he also pitched 64 scoreless innings in a row, recording 21 straight wins.
Paige ruled the Negro league for 22 years. During this span, he pitched approximately 2,100 games. By his account, 300 of these games were shutouts and 55 were no-hitters. In 1948, Paige achieved his dream of becoming a Major League Baseball player. He joined the Cleveland Indians at age 41, just one year after Jackie Robinson had broken baseball's color barrier. Paige eventually played for two other major league teams—the St. Louis Browns and the Kansas City Athletics.
After he retired from the major leagues in 1965, Paige coached the Atlanta Braves. He died in Kansas City in 1982 and was buried in Forest Hill Memorial Park Cemetery. According to famous baseball player Joe DiMaggio, "Paige was not only the best, but also the fastest pitcher I ever faced." To this day, Paige remains one of the most legendary pitchers in baseball history.
[Sources: Simpson Street Free Press Archives ; Baseball's Top 10 Pitchers ]