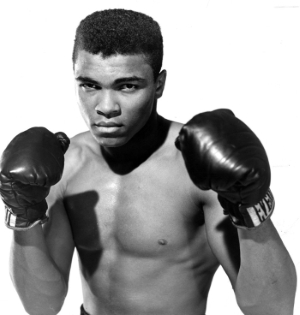 Muhammad Ali, born Cassius Clay, is considered one of the best boxers in history because of his accomplishments, both inside and outside the ring.
Ali discovered his boxing abilities thanks to his stolen bike. When the frustrated 12-year-old Ali told a police officer that he wanted to beat up the thief, the officer responded, "well you better know how to fight before you start challenging people." The officer, Joe Martin, also trained young boxers at a local gym. He became Ali's first boxing coach.
In his first amateur match in 1954, Ali won by split decision. He went on to win the 1956 Golden Gloves Tournament for novices in the light heavyweight class. Three years later, he won the Amateur Athletic Union's national title for the light heavyweight division and the National Golden Gloves Tournament of Champions.
Ali traveled to Rome, Italy in 1960 to compete for the U.S. Olympic Boxing team. After winning his first three matches, he defeated Zbigniew Pietrzkowski from Poland to win the gold medal. Following his victory in the Olympics, Ali was recognized as an American hero. With the backing of the Louisville Sponsoring Group, Ali turned professional.
Ali appeared unstoppable after winning all of his fights—the majority by knockout. He referred to himself as "the greatest" and was known for boasting about his skills before a fight. He was also known for his colorful descriptions and phrases. Ali famously told reporters that in the ring he would "float like a butterfly, sting like a bee."
In 1964, Ali converted to Islam. At first he went by the name "Cassius X," but later decided to go by the name that so many people know him as today: Muhammad Ali. That year, he knocked out Sonny Liston and became the heavyweight champion of the world, but the boxing association took away his title and suspended Ali for three and a half years. This was indirectly due to his religious beliefs, because of which he refused to be inducted into the military and fight in the Vietnam War.
Returning to the ring in 1970, Ali won his first fight. Four years after his return, he fought reigning heavyweight champion George Foremen in a fight known as the "Rumble in the Jungle." Ali emerged victorious and once again became the heavyweight champion of the world. His career started to decline when he was defeated by Leon Spinks in 1978 and knocked out by Larry Holmes in 1980.
The day after being defeated by Trevor Berbick in 1981, Ali announced his retirement from boxing and eventually announced he had been diagnosed with Parkinson's Disease. Today, Ali is still very active in public service efforts, raising money for good causes, like the Special Olympics and the Make a Wish Foundation. Ali is known one of the greatest boxers ever and is remembered as a hero.
[Source: Biography.com ]