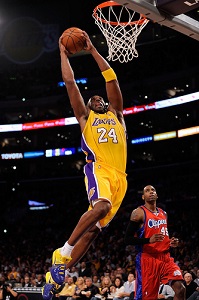 Kobe Bryant was born in Philadelphia, Pennsylvania on August 23, 1978. Bryant is the son of past NBA player Joe "Jellybean" Bryant. The younger Bryant spent his early years in Italy, but returned to the U.S. to attend Lower Merion High School in Pennsylvania to play basketball. Here, he led his high school team to four consecutive state championships. This was only the beginning of Bryant's basketball success!
In 1996, Bryant was drafted to the Charlotte Hornets straight from high school. After one year on the team, he was chosen to play for the Los Angeles Lakers. In 1998, Bryant was selected to play in the NBA All-Star game at only 19 years old; this made him the youngest player in history to do so. He then teamed up with the equally-talented center Shaqueille O'Neal to win three NBA championships in a row. Under Bryant and O'Neal's leadership, the Lakers were voted first-team all-NBA from 2002 to 2004.
Thanks to his success, Bryant racked up endorsement deals from brands like Adidas and Sprite. The Lakers suffered a blow in 2004 when O'Neal left the team, but Bryant continued to shine. In January of 2006, he scored 81 points against the Toronto Raptors. This ranked as the second highest single-game scoring record in the history of the NBA for an individual. Bryant also played on the 2008 and 2012 U.S. Olympic basketball teams among other top NBA players, including LeBron James, Carmelo Anthony, and Kevin Durant. Together, they won back-to-back gold medals.
Bryant suffered a torn Achilles tendon in 2013. This could have ended his career, but he worked hard to get back on the court. However, he then fractured his knee only six games into the 2013-2014 season. Despite the injury, by December 2014, Bryant surpassed Michael Jordan by winning third All-Time on the NBA scoring list.
Bryant's season ended in January of 2015 due to an injury for the third year in a row when he suffered a torn rotator cuff. Though he returned to play in the 2015-2016 season, Bryant struggled next to his much younger teammates.
Thus, in November of 2015, Bryant announced that he would retire for good following the end of the season. He said, "this season is all I have left to give...My heart can take the pounding. My mind can handle the grind but my body knows it's time to say goodbye."
On April 13, 2016 Bryant played the final game of his career in front of a sold-out crowd at the Staples Center. Former Lakers players including Magic Johnson, O'Neal, and Pau Gasol were among Bryant's many fans in attendance. During the game, Bryant scored 60 points and led the Lakers to a victory against the Utah Jazz.
Magic Johnson said of Bryant's career, "Kobe Bryant has never cheated the game, never cheated us as fans. He has played through injury, he has played hurt. And we have five championship banners to show for it."
Following his on-the-court career, Bryant has attempted to give back to the different communities that helped him succeed. He and his wife Vanessa Laine established a fund called the "Kobe & Vanessa Bryant Family Foundation." In partnership with the non-profit After-School All-Stars Bryant also directs a summer camp called the "Kobe Basketball Academy," which runs annually.
Bryant will always be remembered for his hard work and outstanding talent on the court. He is considered by many one of the best basketball players of all time.
[Source: Biography.com ]