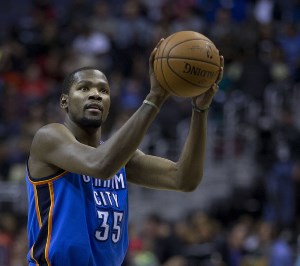 Kevin Durant is one of the highest scoring professional players in the National Basketball Association (NBA).
Durant was born in Suitland, Maryland, on September 29, 1988. He is one of the four children of Wanda and Wayne Pratt. Durant's family loved sports, especially basketball, and this influenced him greatly. Durant started his winning steak early with his youth basketball league, in which he won two championships.
In high school, he grew seven inches to his current height -six foot nine inches- and played on several different teams. Durant continued to shine on the court. Many basketball scouts started to notice Durant during his high school career.
Following high school Durant attended the University of Texas and joined the Longhorns. After just one year of playing, he was picked second overall in the first round of the 2007 NBA draft, for their basketball team Durant was picked by the Seattle Supersonics and soon became a three-time NBA scoring champion. One of Durant's most notable achievements.
After Durant's 2008 season, the Supersonics relocated to Oklahoma and became the Oklahoma City Thunder. In 2010, Durant was named the International Basketball Federation (FIBA) World Championship Most Valuable Player (MVP). He played on USA's Olympic basketball team in 2012 and helped win a gold metal.
On July 4, 2016, Durant signed to The Golden State Warriors. In making this decision, Durant said he focused on choosing a team that would help him grow as a player.
"I am also at a point in my life where it is of equal importance to find an opportunity that encourages my evolution as a man," Durant said of the decision.
In addition to playing in the NBA, Durant signed an over $60 million dollar contract for seven years with Nike. In fact, the only person who has a bigger deal with Nike was bigger is LeBron James.
Kevin Durant is an incredible player who continues to grow and thrive in his professional basketball career. As a sports fan I, for one, am excited to see what he accomplishes next.
[Source: Biography.com ]