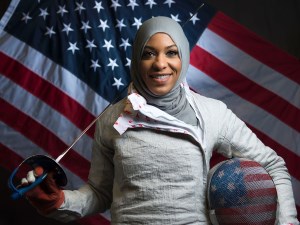 Thirty-two-year-old Ibtihaj Muhammad is the first-ever Muslim woman to wear a hijab while representing the United States of America at an Olympic Games. She participated in the 2016 Summer Olympics.
Muhammad was born on December 4, 1985 in Maplewood, New Jersey. She is one of five children born to Denise and Eugene Muhammad. As a child, Muhammad loved sports and was very competitive. However, her religious customs to dress modestly often conflicted with school sports. Often times, Muhammad's mother would have to alter her gym clothes by adding long sleeves or pants. Muhammad often felt out of place amongst her peers because of this.
At age 13, Muhammad discovered fencing. At first, the sport didn't interest her much. Over time, she began to enjoy it. Muhammad's mother thought fencing was the perfect sport for her daughter because of its requirement for participants to wear long pants and head gear.
Soon, after she began to fence, Muhammad started to attend the Peter Westbrook Foundation, a non-profit organization that teaches fencing skills to under-privileged youth in New York City. A few years later, she enrolled at Maplewood's Columbia High School. Here, Muhammad became head of the fencing team.
In 2007, Muhammad graduated from Duke University, where she majored international relations and African American studies. She also earned a minor in Arabic. While in college in 2004, Muhammad placed second at the Mid Atlantic/South Regional fencing tournament and 21st in the fencing event at the Junior Olympics.In 2005, she placed 11th for the fencing sabor event at the NCAA Championships. Muhammad earned her second consecutive All-American Honors the same year.
Because of Muhammad's unique representation in the world of fencing and at the Olympics, she is a role model for young women and children all over the world. She still fences and wins awards to this day.
[Source: Biography.com ]