Harriet Tubman: Freedom Fighter and Conductor on the Underground Railroad
by Ayelen Flores Ruiz, age 11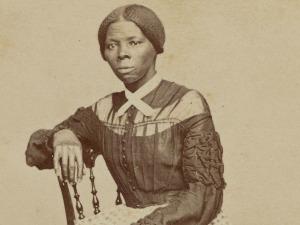 Harriet Tubman, a former slave, helped many African-American slaves reach freedom via the Underground Railroad. She also made significant contributions to the Union Army and was an important activist during the Civil War. She was known for being the first African American woman to assist the Union Army during the Civil War.
Harriet Tubman was born in Dorchester County in Maryland between 1820 and 1822. Tubman was born into slavery. She was one of nine siblings, born to Harriet Green and Benjamin Ross. When Harriet Tubman was young she got hit in the head for helping a man who was being beaten for trying to escape, causing her to have horrible headaches and narcolepsy.
Tubman escaped slavery by using the Underground Railroad. She then navigated people who were trying to escape to freedom by using the Underground Railroad. Harriet Tubman was never caught and never lost a passenger while assisting people to freedom. Because of her success in escaping many slaves, Tubman had a $40,000 bounty on her head.
Tubman united with a free black man named John Tubman. Slaves were not legally allowed to marry at that time but she took John Tubman's last name and called herself Harriet. When Tubman and her three brothers escaped to the North, her husband disagreed with going with her and stayed behind.
Tubman's memorization and knowledge of towns and transportation routes in the South, as a result of her work with the Underground Railroad, made her important to the Union Army during the Civil War. Tubman herself was a spy and scout for the union, and she could also often make herself appear to be an aging woman so she would be disguised in public.
As a nurse for the military, she distributed herbal medicine for both black and white soldiers that were dying. After the war, Harriet Tubman joined Elizabeth Cady Stanton and Susan B. Anthony in fighting for women's suffrage. A few years later, Tubman married a soldier named Nelson David who also had been born into slavery. Despite all her efforts, she still had to fight to receive acknowledgement for helping the union. Tubman died in 1913 and was buried with military honors in Fort Hill Cemetery in Auburn, New York.
Harriet Tubman was a brave woman who helped many people escape the same pain and slavery that she was born into.
[Sources: womenshistory.org ; washingtonpost.com; history.com ]