Gladys West Used Math and Science to Map Planet Earth
by Hiba Al-Quraishi, age 14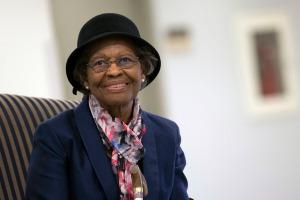 Gladys West was a splendid mathematician. She was an African-American woman who accomplished many things during her career. Glady West is best known for developing a Global Positioning System, which today we call GPS.
"When you're working every day, you're not thinking 'What impact is this going to have on the world?' You're thinking, I've got to get this right." said Gladys West.
Gladys West was born on October 27, 1930 on a farm in southern Virginia. She spent the majority of her childhood working on her family's farm. In addition to farm labor, her mother worked at a tobacco factory and her father worked for the railroads. West viewed her parents as an inspiration for what she became. Early on in her life, Gladys decided that she did not want to work in farms or factories like her parents. She wanted an education.
It was quite difficult for her and her parents to afford college. They supported their entire family on a farmer's wage which didn't leave much for West's education. She worked but her high school classes interfered with her job responsibilities. She graduated high school as valedictorian and managed to earn a full scholarship to Virginia State University. Because of its difficulty, West decided to major in mathematics, a topic usually studied only by men. In 1952, she graduated from VSU with a bachelor's degree. She went on to teach high school math and science courses in Virginia for two years. Then she returned to VSU to earn her master's degree.
In 1956, Gladys West was hired to work for the U.S Navy as a computer programmer on large-scale computers. She also worked as a project manager helping to create data-processing systems used in the examination of satellite data. She was swiftly promoted by the Navy and Air Force because they were in need of employees who understood science, technology, and math.
"You had to be particular. You can learn in the process, but then you have to really make sure you create the process just right, so everything would come out all right," West said later.
In early 1960, West took part in the award-winning space science study that demonstrated the consistency of Pluto's movement compared to Neptune's. She set out to analyze data from space satellites. Her work helped assemble copies of the Earth's form, which guided the development of the GPS systems used today.
In conclusion, Gladys West was an impressive woman in history. She had a difficult time saving money for her education but managed to earn a full scholarship to Virginia State University. During her time as an employee of the U.S Navy, she was recognized as a key figure behind the invention of GPS Systems. She helped make advancements in scientific knowledge and research.
"I always made sure I did things just right, to set an example for other people who were coming behind me, especially women." - Gladys West.
[Sources: TheGaurdian.com ; NASA; BlackPast.org ]