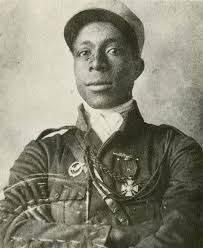 Do you know who the first Black pilot was? Well if you don't, it was Eugene J. Bullard.
Bullard's life was filled with many unexpected events such as from running away at 11, stowing away on a boat at 16, and even enlisting in a French army at 19, not even knowing French. This is his story.
Eugene Bullard was born in Columbus, Georgia in 1895. When he got older, his parents tried to shield him from racism and how he was "different." One day, his father got in a fight with a racist supervisor. When his father came home that same night, a huge mob of white people came to their house trying to lynch him. Bullard's father stayed alive but had to start hiding. That's when Bullard found out life wasn't perfect. He started to dream about a future where all white people would treat colored people with respect. Eugene decided to run away from home when he was only 11.
For the next five years wandering around Georgia, Bullard received both compassion and rudeness. He later joined a band of English gypsies. What he didn't know was that crossing the Atlantic Ocean would be a game changer. In 1912, Bullard snuck on a ship leaving Norfolk, Virginia. He was only 16. The boat brought him to Scotland, where lots of people treated him the way he wanted to be treated. He traveled over to England soon after where he did street performing, worked as a dock worker, and worked several other odd jobs to make a living.
Bullard's dream was to go to France. He started thinking about that in Georgia. When he was 19, he joined the famous French Foreign Legion to fight for his adopted country against Germany. Later on, he got transferred to the standard French army unit, where he got seriously injured while trying to carry a message from one French officer to another during the world war l, the wound would later become permanent. His heroism earned him the Croix de Guerre military decoration.
In October 1916, Bullard started to train as an aircraft gunner. While he was there, he learned about the Lafayette Escadrille, a group of American fighter pilots who fought for France. Bullard immediately asked to train as a fighter pilot instead of a gunner. In seven months, he earned his pilot's license. Sometime later, Eugene Bullard's biography noted that the American military had privately decided not to accept African Americans, which left Eugene feeling rejected. However, in April 1917, Eugene left France for New York
Soon after Eugene left, he successfully became the owner of a nightclub and owned a gym. Nevertheless, he decided to fight for France again, now in World War ll. The second time he got wounded, he fled to Spain, crossing the Atlantic Ocean once again. This time, he traveled in the opposite direction almost three decades after his original voyage. He lived the rest of his life in New York where he continued his hard, but long life.
[Sources: PBS ; 100 Amazing Facts About the Negro ]