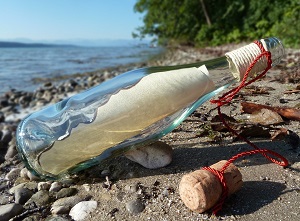 Marianne Winkler was walking on a German beach with her husband when she saw an object that had washed up on the shore. She investigated further to find the object was a message in a bottle.
The bottle was sealed shut, so Winkler and her husband decided to break it to get the message. They found out the bottle was one of the many sent out as an experiment from the early 20th century.
In the bottle was a post card from George Parker Bidder, the former president of the Marine Biological Association of the United Kingdom. The post card also had instructions for the receiver requesting it be sent back to the association. After the couple sent the bottle back, they discovered Bidder dropped 1,020 bottles in the ocean between 1904-1906 as an experiment. He wanted to know how currents at the bottom of the ocean worked.
The association was very excited to find out that someone had one of those bottles because there was no record of any others being found in the experiment. Bidder called these bottles "bottom bottles." There are still about 400 bottles not yet recovered. Guy Baker, the association's communications officer, said there is still a chance for more bottles to be found, but this would be very unlikely. Each bottle contained instructions in English, Dutch, and German to send it back to the association, with details of where, when, and how the bottle was found.
The bottles' message said whoever found it would be rewarded with an English Shilling, a coin that was phased out after Britain began decimalization in 1971. The association found an old shilling and sent it in a presentation box with a letter of thanks. The Marine Biological Association is hoping to claim a new world record for the oldest message in a bottle. The current record is 99 years and 43 days.
In modern times, scientific techniques have advanced, and sometimes lead to better results. George Parker Bidder did not have our technology back in 1904. But the experiment left its mark on history and earned a new world record.
[Source: CNN.com ]