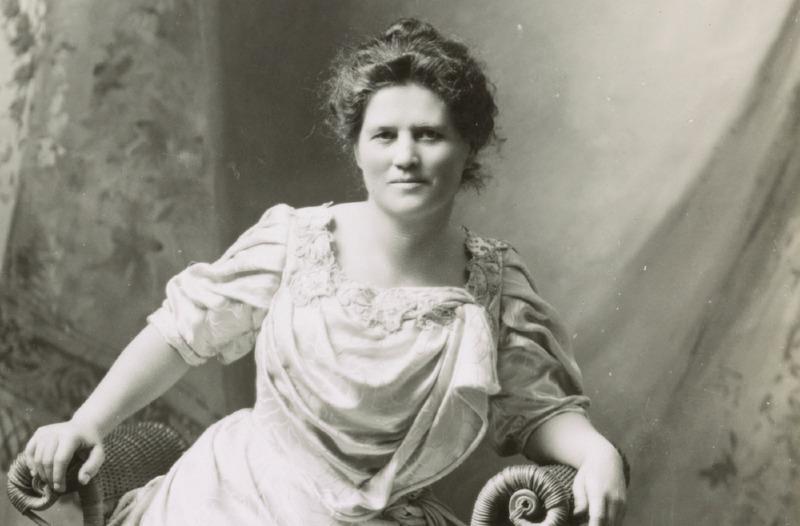 Belle Case La Follette Was a Powerful Early
Figure in the Fight for Women's Rights
by Amelia Pearson, age 12
Have you ever heard of Belle Case La Follette? She was a woman who fought for the right to vote and was a strong leader for women's equality and peace.
La Follette was born in Juneau County, Wisconsin on April 21, 1859. Her parents were farmers and they sacrificed everything to send her to college in 1875. While in college, La Follette performed well in school and also developed a passion for literature. It was also during this time that she met her future husband, Bob La Follette. Although she was four years younger than Bob, they were both in the same class. She actually ranked above him as one of the top students.
La Follette graduated in 1879 and began teaching high school while her future husband Bob studied law. The couple married in December of 1881. In 1882 La Follette had her first child, Flora Dodge. At the same time, she started to have an interest in law after working on her husband's legal work. She soon enrolled in the University of Wisconsin Law School and eventually graduated in 1885. She was the first female graduate of the law school. La Follette never practiced law by herself. She did, however, continue doing legal work and was even acknowledged by the Wisconsin Chief Justice for a legal brief she wrote for her husband.
Bob La Follette ran for Congress, governor, United States Senate and even the presidency. During that time, Belle helped write his speeches and prepare his campaigns. Eventually, Bob earned a seat in Congress and served three terms from 1885-1891. Belle La Follette was his secretary and administrative assistant throughout his terms.
After serving three terms, Bob lost in his last campaign, forcing the couple to return back to Wisconsin. Here, Belle began to teach physical education and discuss issues related to women's suffrage, coeducation and dress reform. She became president of the Emily Bishop League, which was a group that encouraged exercise and healthy living.
From 1895-1899, La Follette gave birth to three more kids: Bob Jr. Mary and Phil. Along with this, she helped with her husband's future campaigns and continued to do advocacy work for women's right to vote, which became law in 1920.
In 1906 Bob La Follette became a U.S. Senator and again Belle helped in his work. She directly participated in governmental discussion and had a big impact on reform legislation in Wisconsin and across the United States. In 1909, the couple founded "La Follette's Weekly Magazine." La Follette created weekly posts that criticized politicians and their administrations. She also used every chance she could to fight for women's right to vote.
In 1918 La Follette created the Women's Peace Party which later became the Women's International League for Peace and Freedom. She continued to actively fight for women's rights after World War 1. When her husband died in 1925, she was encouraged to take his seat in the Senate. She declined the offer. Instead, her son Robert Jr., took the seat. La Follette then went on to write a biography about her husband but would not finish the book before she died on August 18, 1931. Her daughter, Fola, finished it instead.
While Belle Case La Follette was a phenomenal journalist, editor, lawyer and activist, throughout her life, she dedicated most of her work to the fight for women's rights. In doing so, she helped create government reform and political reform that is still with us today.
[Sources: Wisconsin Historical Society ; pbswisconsin.org; Wisconsin Women Making History ]