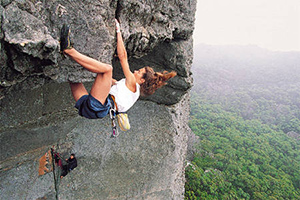 The 3,000 foot tall "Nose" is located on Yosemite National Park's granite massive structure, "El Capitan." Many people had tried to climb it, but nobody succeeded until athlete Lynn Hill. Hill was the first climber to conquer the Nose.
Lynn Hill was born in 1961 in Fullerton, California and grew to be an athletic, but petite woman at just five foot two and 100 pounds. In the 1980's, Hill won television's Survival of the Fittest four times in a row. She entered many rock climbing competitions and won them all. But she still was not satisfied. Hill eventually turned to free climbing, a technique used to climb mountains without protective gear or rest spots.
In 1990, French climber Jean-Baptiste Tribout challenged Hill, saying that women could not possibly climb the difficult routes, like men. She proved him wrong by successfully climbing one of the most challenging mountains in France called Masse Critique.
In 1993, Hill attempted to climb the Nose. She made it to the top in three and a half days. When Hill returned one year later, she made it in 23 hours. Many see her climb as the "greatest rock climbing accomplishment ever."
[Source: LIFE: The Greatest Adventure of all time ]