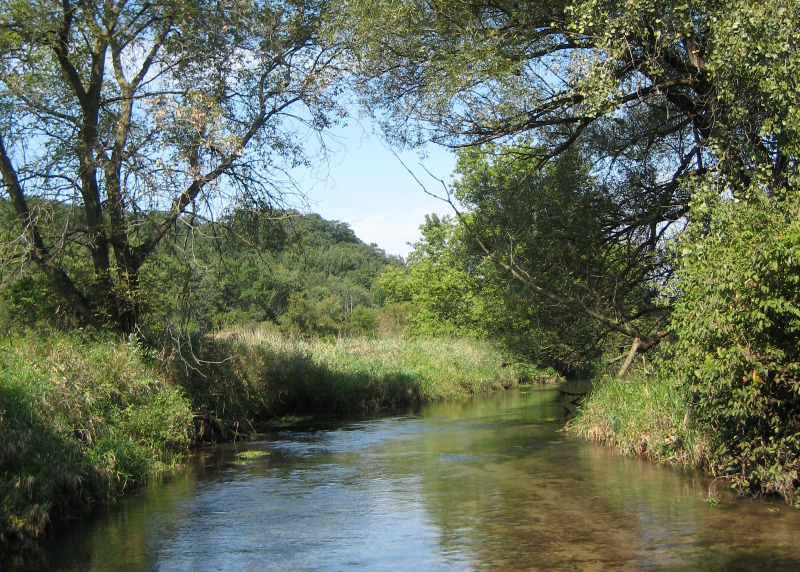 Where Is the Sugar River?
by Dulce Maria Vazquez, age 13
The Sugar River runs throughout southern Wisconsin and ultimately feeds into the Rock River in Illinois. The start of its main branch is located in Mount Horeb in Dane County, close to Madison, Fitchburg, and Verona.
One of the Sugar River's biggest feeder streams is Badger Mill Creek. The creek also begins in Madison and runs through Verona and Fitchburg. It finally reaches, and merges with, the Sugar River near Highway 151.
The Sugar River's other note-worthy tributaries are the West Branch of the Sugar River and Mount Vernon Creek, which help make up the Upper Sugar River Watershed. The Upper Sugar River Watershed encompasses the section of the Sugar River that lies upstream of Bellville, Wisconsin. The whole watershed reaches across about 500,000 acres, or 760 square miles, of southern Wisconsin and the northern part of Illinois.
A non-profit organization, called The Upper Sugar River Watershed Association, gathers members of the community, including resident scientists and volunteers who care about their environment, to work on keeping the Sugar River's natural beauty intact. The Sugar River faces a few issues, such as invasive species, water quality problems, endangered wetlands, and wildlife in need of management.
Since the number of visitors of the Sugar River has increased, the number of non-native, or invasive, species entering the river ecosystem has also risen. The Upper Sugar River Watershed Association has encouraged the placement of informative signs and "boot brush stations" to help minimize invasive species from being unintentionally transported to the river by tourists. With the help of these efforts, the association has been able to detect several new invasive species in the Sugar River.
The Sugar River has a lot of natural beauty to offer to its visitors. With the help and attention of these visitors and the Upper Sugar River Watershed Association, the Sugar River and its watershed can hopefully be kept healthy and beautiful for many years to come.
[Sources: Wisconsin DNR ; uppersugar.org; Wisconsin River Alliance ]