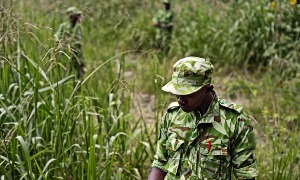 Park rangers are a key part of African conservation sites. These sites are essential to protecting endangered species from poaching, also known as illegal hunting. Why, then, are they not being properly supported? It has been shown that with proper equipment and training, rangers do their jobs better. Park rangers need equipment, training, and security to succeed and be safe on the job.
Park rangers and their families simply are not getting the support they need. When the World Wildlife Fund surveyed 12 African countries, 42 percent of rangers had not received proper training for situations with poachers or animals. 59 percent did not have the basic supplies needed to properly do their jobs. Plus, only around half of the rangers had health and life insurance to help them if something were to happen during work. With such little support, rangers aren't doing their best.
This support takes funding, and not enough money is being supplied. Conservation organizations often invest in big technological solutions but fail to pay attention to basic needs. There are a few smaller organizations supporting rangers, but the money they supply is not enough for all of the rangers in Africa.
Esnart Paundi died in 2010 after a poacher attacked her and her colleague while she was working as a ranger. She had five children and five siblings who she supported financially. Her daughter, Anna Phiri, believes that her mother would not have died if she had received proper training and resources. Because she had no life insurance, her family received no government support after her death. A not-for-profit organization, called the Thin Green Line Foundation, helped the family, but such organizations cannot help everyone.
In some conservancies, steps are being taken to help the rangers as well as the animals. The Lewa Wildlife Conservancy in Kenya completely changed and improved its operation in 2014, investing in training, communication systems, security, and relationships with local people. They went from losing huge numbers of rhinos to none at all. Another success story is the Sabi Sand Game Reserve in South Africa, which after receiving a large investment for the training of the rangers, went from losing 51 rhinos in a year to only two. These examples show that investing in rangers significantly improves the success of conservancies, lowering the death rate of the animals protected by them.
Even though park rangers' situation is still precarious, there is a lot that can be done to help. Getting them the equipment and training they need is the big, first step. The Thin Green Line Foundation plans to teach 30-60 rangers skills to be trainers themselves, and then have them train others as an inexpensive way to get as many rangers trained as possible. Although it's a long way to go before all the park rangers have all the support they need, it is definitely achievable.
[Source: The New York Times ]