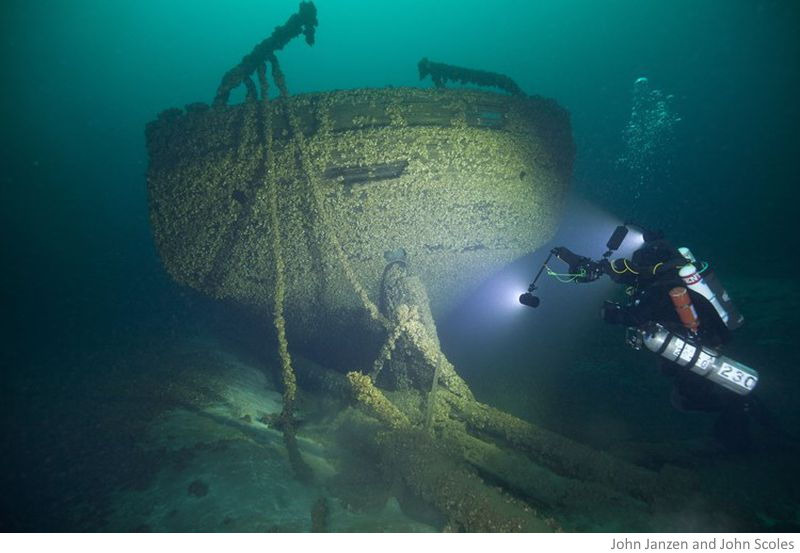 Two Lost Ships Discovered at the Bottom of Lake Michigan
by Jeremiah Warren, age 11
Can you imagine diving in a lake and finding a shipwreck? It's estimated that there are 6,000 shipwrecks in the bottom of the great lakes. Bernie Hellstrom, a diver, was one who found two ships – Peshtigo and St. Andrews – in the depths of Lake Michigan. Both of these ships collided more than 140 years ago.
It is believed that these ships sank in 1878 in the east of the Straits of Mackinac in Lake Huron, but only the Peshtigo ship was found in the accident. St. Andrews' ship was not found until recently.
The Peshtigo ship was 161 feet long, it was used to carry and transport coal to other areas. The St. Andrews' ship was 143 feet long and was used for carrying corn.
The collision of the ships resulted from the confusion of signal torches. Two people from the Peshtigo's crewmen were lost, and there were plenty of other survivors who were rescued by a schooner passing by, which is a type of boat with two or more masses.
Wayne Lusardi, an archeologist in Michigan's Martine, has been trying to find the exact place where the Peshtigo and St.Andrew ship sank. She is now trying to figure out how the wrecks happened and why.
"You can argue that any new discovery is important because it really gives you a first-time look at something that has been lost and missing for such a long time" Lusardi said. It's important to understand that many great discoveries take time. Although we don't always know the answers right away, we eventually will find more information. Who knows what more could be found at the bottom of these lakes?
[Sources: Great Lakes Shipwreck Museum ; Chicago Tribune ]