When Exploring Dane County's Sugar River, Keep and Eye Out for Invasive Species
by Dayanara Flores Gonzalez, age 14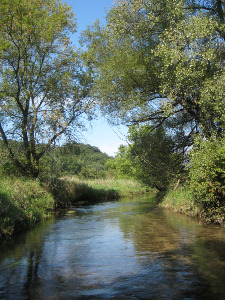 The Sugar River, also known as The Upper Sugar River Watershed, is located in Dane County and flows all the way down to the Rock River.
The Upper Sugar River Watershed Association works to protect the river from invasive species that can harm or push out native species and damage the ecosystem. Many rare and endangered native plants found in the river and its nearby wetlands are threatened. Most wetland animals depend on these native plants for food and shelter.
Some native species can disappear if a watershed loses its healthy wetlands. Recreational uses of wetlands include trapping, fishing, bird watching, and nature study. Healthy wetlands can help with keeping the water clean and safe for wildlife. Healthy wetlands also help control and prevent floods.
There are three types of invasive species to be on the lookout for near the Sugar River: Purple loosestrife, Japanese knotweed, and Non-Native Phragmites or Common Reed.
The purple loosestrife is a plant that comes from Europe and Asia. This plant grows taller and faster than other wetland plants. Loosestrife has spread rapidly in Wisconsin over the last 30 years.
Non-Native Phragmites or Common Reed is a plant that can invade almost any moist habitat. This invasive plant also grows very quickly and can become established in areas that are disturbed by humans. Common reeds can also increase fires and shade out native species.
Lastly, the Japanese knotweed is a plant that was introduced in Wisconsin during the 1800s. It can grow up to eight inches a day in the summer. It can grow up to a total of 15 feet and the roots can spread up to 70 feet. Knotweed spreads widely and native plants often can't compete. This affects the food supply and available shelter for local wildlife.
The Sugar River is a unique and natural place. Many people in Dane County enjoy exploring the area, watching birds and hiking. While enjoying the river and its native species, we also need to keep in mind that this ecosystem can be fragile. Local citizens and scientists are working to protect the Sugar River and its abundance of native wildlife species.
[Sources: Upper Sugar River Watershed Association ; Wisconsin DNR ]