How Wisconsin Manages its Black Bear Population
by Dayanara Flores Gonzalez, age 14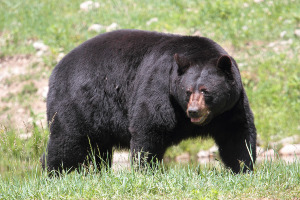 It is getting easier to see black bears in Wisconsin. It's becoming more common to see black bears because their numbers in Wisconsin are growing. So, if you decide to go camping in our state, it's possible you could see a black bear roaming around.
In 1989, the estimated number of black bears in Wisconsin was close to 9,000. A recent report shows that the black bear population has more than doubled to 24,000 in the 30-year span since then.
One reason black bears are becoming more common is that it's easier for them to find a safe habitat to live in without being in danger. Another reason is that the government is regulating the number of bears that can legally be killed.
The Wisconsin Department of Natural Resources (DNR) controls the population of the bears by placing a strict hunting permit system that only allows a limited number of individuals the ability to hunt. These measures are set in place so the population of bears does not significantly decrease again.
In 2020, more than 119,000 hunters applied for permits and only 11,535 were able to obtain them.
A growing population has caused some black bears to find homes in southern parts of the state. Black bears were historically found only in northern parts of Wisconsin.
There are other places where the bear population is increasing. According to a survey of U.S. states and Canadian provinces, many areas have seen an increase in black bears. Researchers in Wisconsin are using various techniques to track, examine, and accurately estimate bear populations.
[Sources: jsonline.com ; Wisconsin DNR ]