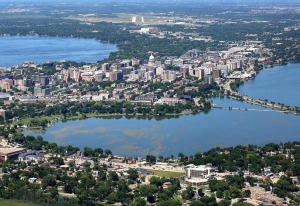 European settlers such as Frank Hudson gave the Yahara Lakes beautiful Native American names. Lake Monona, Lake Mendota, Lake Kegonsa among other lakes are well-known to Madison residents; but many do not know why the settlers chose such a specific style of names.
In written accounts dating back to 1817, Europeans interpreted the lake names as meaning "the Four Lakes." As early surveyors approached the lakes from the south, they gave the name First Lake to the southern-most lake and continued north: the First Lake (Kegonsa), the Second Lake (Waubesa), the Third Lake (Monona), and the Fourth Lake (Mendota). In 1849, Frank Hudson, who professed familiarity with Indian ways, suggested changing the names to the ones we use today, such as Lake Monona and Lake Mendota.
Lyman C. Draper, the first corresponding secretary for the State Historical Society of Wisconsin, said "Mendota" was initially thought to be a Chippewa word meaning "large" or "great." There was no translation for the name "Monona", but Draper wrote that Governor Leonard Farwell could have believed it meant "fairy" or "beautiful."
Draper said the First Lake had a good reputation for fishing while the second was known for a report of a large swan being killed on it. These stories motivated Farwell to choose the names Kegonsa and Waubesa, respectively because of their Native American translations to "fish" and "swan."
In addition to the four lakes, Lake Wingra was initially named "Dead Lake", but the settlers renamed it to Lake Wingra believing Wingra was an Indian term for "duck".
Governor Farwell convinced the State Legislature to legalize the names "Monona, Mendota, Waubesa, and Kegonsa" in 1855. The new names were then printed on promotional maps and they have remained the same ever since.
Though it has been many years since any name changes have been made to our Madison lakes, the story of how Native American words influenced the names of the Yahara Lakes remains an amazing facet of Wisconsin's history.
[Source: Wisconsin State Journal ]