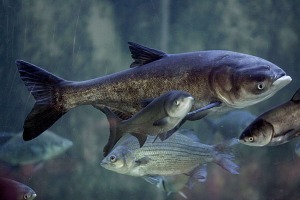 A group of homeowners, businesses, and lake users, called the Friends of Lake Kegonsa, are going helping to implement a carp removal project. The project aims to remove a large number of these fish from Lake Kegonsa. For the past year, the staff at the Department of Natural Resources (DNR) in Wisconsin have been following a cluster of 20 carp that were captured, tagged, and set free last fall. They hope that if they follow the carp they will discover the migratory patterns of this invasive species.
Carp were introduced to American waters during the mid-1800s. The bottom-feeding fish began reproducing in large numbers and quickly became an inconvenience. Many underwater plants were destroyed causing an abundance of trouble in the Yahara lakes. Consequentially the state declared the fish could be harvested and used for things such as animal feed and fertilizer. In 2005, a controlled removal of the carp took place in Lake Wingra. Not long after the fish were removed, the water quality improved tremendously. Retired DNR Scientist Richard Lanthrop says that although carp removal would benefit more isolated lakes such as Lake Kegonsa, it would be rather pointless in the more connected lakes like Lake Waubesa. He states that "you could remove them but they'd be going back and forth, where Kegonsa is a little more isolated."
Up until today, scientists used rotenone, a naturally occurring chemical, to kill off all the fish before reintroducing the native species. Now, scientists are experimenting with tracking the carp and blocking off the areas in which they live in order to target the invasive species while leaving the native species unharmed. This is known as the "Judas Fish" tracking method. The technique has been successfully tested on smaller bodies of water such as Lake Wingra. The Friends of Lake Kegonsa are trying to replicate these results on a much larger scale.
The Friends of Lake Kegonsa and Dane County officials are paying $15,500 to the DNR for the bi-weekly tracking, but annual dues may need to be donated to the removal project, which is scheduled to continue for the next five years. The goal of the project is to remove one million pounds of carp from Lake Kegonsa; however, they are currently aiming for a minimum of 200,000. Carp are an invasive species in Wisconsin waters and letting them live here could potentially be the end for many of Wisconsin's native species.
[Source: host.madison.com ]