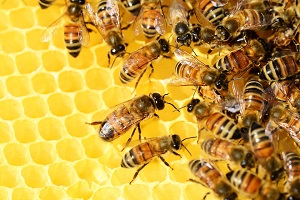 Bees are important pollinators; however, they have recently been declining in population across the country. In response to this alarming trend, Ortho, a pesticide company and a and part of the Miracle-Grow family has decided to remove neonicotinoids or neonics, a chemical that may harm bees, from their home and garden products by 2021.
Ortho decided to take out neonics from their products after the Maryland General Assembly restricted the sale of retail home and garden products containing neonics in legislation called the Pollution Protection Act. Because of Maryland's decision, other states are now also studying the health of pollinators and considering action, according to the National Conference of State Legislatures.
Evidence suggests that neonics can negatively influence the health of bees, thus making the bees more susceptible to mites and other threats. However, the neonics used in home and garden products are minimal compared to what farmers use on crops. Still, delegate Anne Healey of Maryland, a sponsor of the aforementioned legislation, says it's still important to take action.
"I'm hoping this [legislation] will raise awareness of the decline of pollinators...In Maryland, we experienced a 60 percent loss in bee colonies in one year," Healey said. Even though beekeepers have been able to rebuild their colonies, ''overall, it's clearly a problem,'' Healey added.
There is a long list of issues linked to the decline of bees, including the loss of foraging habitat, increase of the varroa mite population, and climate change. Additional efforts have been made to combat this problem; neonics manufacturers such as Bayer Crop Science have started initiatives to plant more wildflowers and rebuild habitats where bees and pollinators can eat, for example.
Researchers and environmentalists alike hope that such initiatives and legislation will prove effective—and soon. Bees are a critical part of our ecosystems, and we simply can't afford to lose them.
[Source: NPR ]