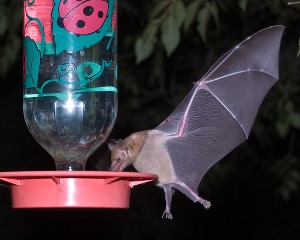 The lesser long-nosed bat is no longer endangered thanks to conservation made possible by scientists and volunteers. It is the first U.S. bat to escape endangerment. The bats' recovery is thanks to cooperation between the United States and Mexico.
Amy Lueders, the southwest regional director for the U.S. Fish and Wildlife Service, claims that science shows that threats to the species have decreased to the point of the bats' recovery.
She also states, "the Service is proud of our strong, decades-long partnership with very diverse stakeholders on behalf of the lesser long-nosed bat. Without partnerships and collaborations such as these, successful recovery would not be possible."
The homes of the lesser long-nosed bat have been in danger for quite some time. These bats inhabit a line of caves and abandoned mines from southern Mexico all the way up to the State of Arizona. The U.S. Fish and Wildlife Service claims that, due to drug and human trafficking operations along the U.S.-Mexico border, these caves are being disturbed and the bats are dying. Recreational cavers and vandals also scare the bats away. In addition, the efforts to control vampire bats in Mexico have often times killed other species such as the lesser long-nosed bat. This, plus the increasing difficulty to find food like nectar or cactus fruits, finally took a toll on the bats, nearly leading them to extinction.
Now, after nearly three decades, the U.S. Fish and Wildlife Service claims that about 200,000 of the bats are back in their homes.
"This is a great example of binational conservation collaboration," says Winifred Frick, an explorer for National Geographic and chief scientist for Bat Conservation International.
The government agencies of both the U.S. and Mexico are working together to make sure food is accessible to the bats and that their homes are protected. The conservation coalition worked to build "bat gates" to prevent humans from entering the homes of the bats and scaring them away or killing them. These gates also allow scientists to monitor the species' growth during the recovery.
"We can fully celebrate [the delisting] as a conservation win," says Frick. "But we also need to be paying attention to species that aren't in as good a position."
[Source: National Geographic.com ]