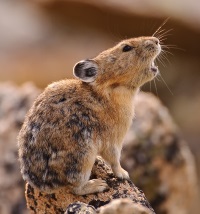 For the past 12,000 years, the American Pika, a small rabbit-like animal, has been retreating farther and farther up their home in the mountains. In fact, in the last century one third of their population in Oregon and Nevada has completely ceased to exist.
The culprit, according to biologists that study the pika, is global warming. Since there is climate change in the alpine ecosystems, the pika must find a colder place to live, thus their move up the mountains. When they reach the top, but still find it too warm, they will have no where to go.
Pikas descended from ancestors who called frozen Siberia their home. Their thick fur stores heat and their paws provide grip on snowy surfaces. This makes it perfect for them to live in places like the alpine zone, which is extremely cold.
Because their bodies are adapted to the cold, pikas are extremely vulnerable to heat. To most people, 78 degrees Fahrenheit is nothing more than a nice summer's day, but to the pika, it is deadly. For the past 100 years, the interior West has gotten warmer by 1 degree Fahrenheit. Research shows that the region might heat up another 4.5 to 14.4 degrees in the next century. This is bad news for the pika.
As a result of these extreme changes, the U.S. Fish and Wildlife Service is considering protection for the pika under the Endangered Species Act. If temperatures continue to rise, as they have, these small lives may soon fade away.
[Source: National Wildlife Federation ]