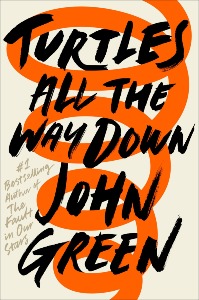 The term 'I' is not singular. Hundreds of thousands of microbes live in our bodies at all times. These microbes make it so thinking of yourself as a singular being is absurd. You can't be a singular being if everything you think and do is controlled by living things inside your body. At least this is what Aza thinks.
The main character, Aza, is constantly fighting with her own mind. She struggles to come to terms with the realization that she is not her own being. She is merely the host for thousands of microbes living inside of her. She lives in constant fear of contracting an imbalance in these microbes, leading to her death. This fear controls her life. She feels that her anxiety keeps her from being a normal teenager which she wants so badly to be. However, she begins to change when she meets Davis.
Davis and Aza met many years ago at what they referred to "sad Camp," a camp for kids who have lost one or both parents. They were very close during the years of this camp. Aza remembers how at camp, she and Davis would hold hands and sit under the stars in silence. She describes it as much more intimate than anything else they could have done. It brought them closer and helped develop a strong relationship that they lost after camp ended.
Davis is the son of Russel Pickett, a fugitive billionaire. When Aza and her best friend, Daisy, show up at the Pickett's huge mansion shortly after the disappearance of his father, Davis welcomes them with open arms. When Davis and Aza are drawn together by the disappearance of his father, their relationship turns into that of a love story. They help each other grow throughout the span of 286 speedy pages. Davis and Aza's relationship helps the plot develop and thicken by adding in a love interest that creates twists and turns in the story.
This book is very good. It kept me on the edge of my seat and as a reader, I loved that. It ends in a way you don't expect, which is one of the many reasons I keep coming back to this author. John Green really knows how to write a good book. I recommend this book to a teenage audience because I was able to make many connections to things that happen in my day-to-day life. John Green is definitely a reliable author and I cannot wait to read another one of his amazing books.