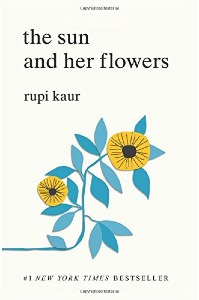 The Sun and Her Flowers by Rupi Kaur is a tender poetic book that signifies the author journey to self-empowerment. This is the sequel to Milk and Honey , and is currently a #1 New York Times Bestseller. She explores multifarious themes such as love, loss, trauma, healing, migration, and revolution — all of which connect to the chapter titles.
"This is the recipe of life
said my mother
as she held me in her arms as I wept
think of those flowers you plant
in the garden each year
they will teach you
that people too
must wilt, fall, root, rise, in order to bloom"
-Kaur writes in The Sun and Her Flowers .
The book is composed of five chapters; each section title represents a special theme that correlates to Kaur's life. For example, chapter one, "wilting" has a similar writing style to Milk and Honey . As she travels a route in search of self-discovery, she experiences a variety of unsuccessful relationships that demonstrate how she is broken and wilted, like a flower.
As the story-poems progress and dig further into the wonders of life, Kaur seeks a brighter, more positive, future.
"It was when I stopped searching for home within others
and lifted the foundations of home within myself
I found there were no roots more intimate
than those between a mind and body
that have decided to be whole"
- Kaur concludes.
I was intrigued by Rupi Kaur's book The Sun and Her Flowers because of her ability to take a wilted flower and relate that to the pain and loss she endured. Not only do her metaphors spark an interest to the reader, but she also uses a precise way of telling her story. This and Milk and Honey are both truly fascinating works of art and I look forward to reading more of Kaur's astounding work.