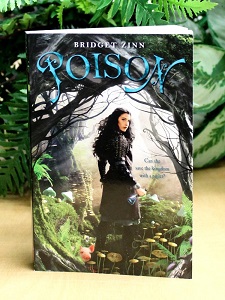 Poison by Bridget Zinn is an intriguing book. It is set in a fantasy world with castles, magic, no-good princes, and best friend princesses.
Kyra, 16, is the tale's protagonist and an immensely-skilled potions master. Her life takes a turn when she meets Princess Ariana. They become inseparable, go on small adventures, and frolic in grassy meadows - until Kyra finds out that the kingdom is on the verge of destruction, that is. The only way for Kyra to save the kingdom is to poison its soon-to-be ruler, her own friend and the princess, Ariana.
With a heavy heart, Kyra aims her bow and arrow to kill. But for the first time in her life, her poisoned dart misses.
Because of this grave mistake, Kyra is forced to flee and hide far from the kingdom she is desperately trying to save. She gathers supplies to take another heart-wrenching shot at saving the kingdom. This time, Kyra plans a sneakier route. She then begins an incredible journey with a pig named Rosie and a gorgeous traveler named Fred.
Follow this young potions master as she struggles to make an impossible decision: save the kingdom she loves but whose people want her dead, or try to assassinate her best friend yet again . Time is against Kyra, so she needs to act quickly. Find out for yourself which choice she makes by reading this great novel.
I recommend Poison to middle schoolers and anyone who likes fantasy and action books. It's a great story with an amazing plot that spurs readers to feel exactly what the book's characters are experiencing. Poison is an excellent tale, perfect for any occasion. Happy reading!