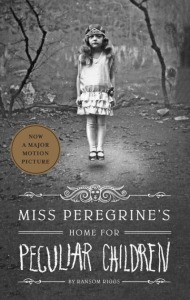 Miss Peregrine's Home For Peculiar Children tells the intriguing story of 16-year-old Jacob Portman. Jacob grew up listening to stories told by his grandfather, Abe, with whom he had a very strong relationship with. This changes when Jacob's dad declares that Abe is mentally disturbed due to his past. Abe would tell Jacob story upon story about a wonderful place called Miss Peregrine's Home For Peculiar Children.  Miss Peregrine's home housed many children with abilities that were unheard of, such as creating fire with their bare hands and being able to fly. Abe also showed pictures of these mysterious children, which Jacob would later find fascinating.
Before Abe's odd death, he whispers words to Jacob that leave him wanting to know the truth. Following his grandfather's death, Jacob learns about monsters who he believes are the cause of Abe's demise. The way the monsters are described in the story leaves your skin crawling with their long slimy mouth tentacles and black eyes.
These events that occur send Jacob traveling to the remote island of Wales with his father. Here he will discover the ruins of what once was Miss Peregrine's Home. When Jacob explores the decaying halls and bedrooms, he realizes that maybe the children in this home were kept here for a reason; perhaps they were more than just peculiar, maybe they were dangerous. He also concludes, though it seems impossible, the children may still be alive.
After these conclusions become clear to him, Jacob meets Emma Bloom, one of the children, who makes fire with her hands. He will later find that Emma was formerly involved with his grandfather. Jacob also meets other kids from Miss Peregrine's Home such as Enoch, who can animate the dead, Olive, the floating girl, and Hugh, the boy who controls and protects the bees that live in his stomach. As you read further into this book, you begin to wonder who it is truly about, Jacob Portman, or the children who are hunted by monsters.
This novel is littered with unaltered black and white photographs that help with plot development and add a very unsettling feeling to the overall story. Miss Peregrine's Home for Peculiar Children is a great novel for teenagers and adults who appreciate or enjoy a gasp now and then. Ransom Riggs has never failed to impress me with his work, and I look forward to reading the rest of this trilogy.